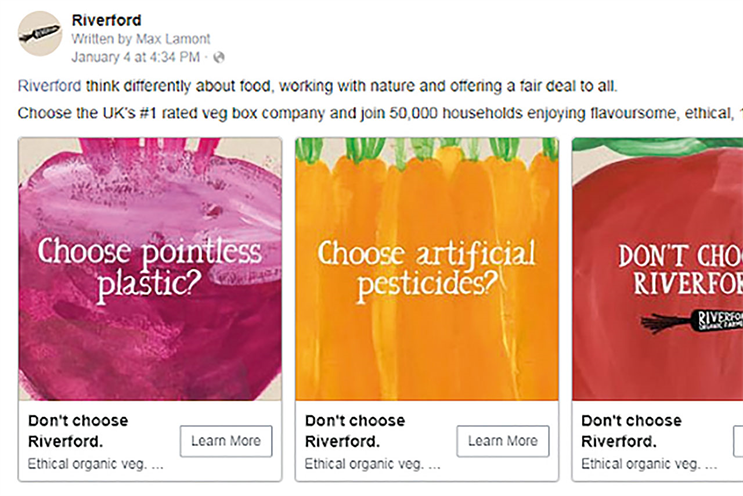 New year, new food choices. That's what Riverford wanted its target audience to think at the start of 2019. The organic farm and UK-wide vegetable box-delivery company has a rich, authentic brand story rooted in ethical values. It wanted people to consider the environmental impact and ethics of food purchasing decisions – and to learn that Riverford is a conscious, environmentally-friendly food provider. It developed a campaign called 'Choose Riverford' to draw attention to all the positive reasons for choosing it – which include ethical considerations, freshness and supporting UK farming.
Strong message over heavy discounts
Riverford had previously relied on discount-driven direct-response activity to acquire customers – which it found to be effective at converting new customers but disadvantaged loyal, existing ones. It meant new customers got a false sense of the real value and cost of food, going against the company's ethos. So it decided not to off er any form of discount to new customers and lead with its rich brand story instead. With the 'Choose Riverford' campaign it chose a multi-channel approach, online and offline, to make the most of a modest budget. It used a marketing mix that included digital channels Facebook and Instagram, as well as OOH channels such as door drops to spread its distinctive brand message. It also partnered with media such as The Guardian to create educational and authoritative content about its offering. The key was to drive traffic to its microsite, where people could explore Riverford's informative and eye-catching content.
Conflicting messages, maximum impact
The creative for 'Choose Riverford' aimed to shine a light on the hidden negatives that customers were buying into if they did not choose to shop with Riverford, by using the slogan 'Don't choose Riverford'. This allowed Riverford to comment on and make a point about shopping and consumption habits that are harmful to the environment. The bold, brave creatives took inspiration from the Irvine Welsh/Danny Boyle cult classic film Trainspotting to convey this punchy message – exactly what was needed to raise Riverford's low existing brand awareness and maximise its return on a low budget.
Brave marketing pays off
The campaign drove high engagement online and offline. The 'Don't Choose Riverford' creative was very emotive and sparked people to feed back on their independent views. The paid-for online ads had fantastic levels of engagement and click-through, and people even took photos of the OOH ads and promoted them across their social channels.
Winning stats
• 29% uplift YoY on new online customers
• 1.3m people reached
• Double the brand recall from the previous 2018 campaign (prompted awareness)
Clare McCombe, campaign marketing manager, Riverford
"Given our limited media budget (we had far less to play with than the majority of our competitors), the campaign achieved impressive cut-through and significantly exceeded our expectations. Facebook proved yet again to be a highly effective channel to deliver our campaign message and worked in harmony with our OOH creative and multichannel approach. Facebook was also a great channel for monitoring reactions and comments. The campaign did a fantastic job at harnessing the spirit of the Riverford brand while promoting our beliefs teamed with our ethical values."
Jeremy Lee, contributing editor, Campaign
"It's small companies like Riverford that are changing the way that we think about how ethical the food we're buying is, and this is becoming a national conversation. This tactical use of Facebook and Instagram, in combination with outdoor, meant that Riverford could gently provoke people to question the choices of their purchasing decisions and monitor reactions to the creative."
Hollie Simmonds, retail account manager, Facebook
"Riverford's campaign influenced over a million people in the UK. This was through a close collaboration between Riverford's marketing team and our Creative Shop and Marketing Science teams. Looking forward to seeing what the future holds for them."