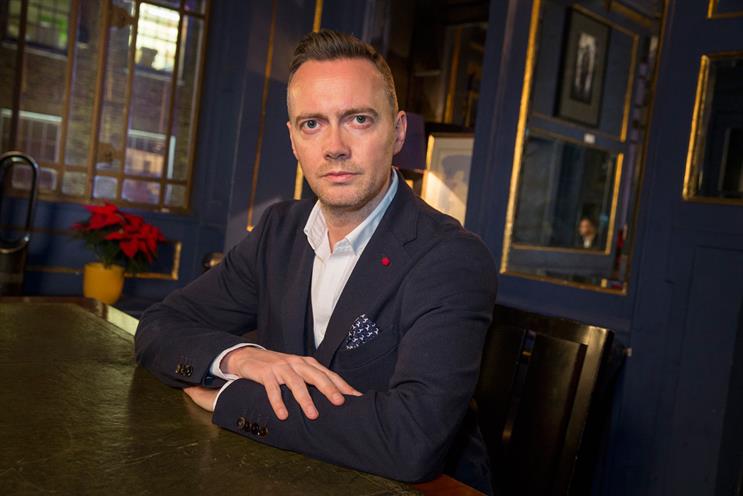 Kay, who was chief executive of the agency since 2011, has been appointed as a global planning director for WPP.
Sharpe joined RKCR/Y&R as chief innovation officer in 2012, from M&C Saatchi where he was chief digital officer. He was the founder of digital agency Play, which was acquired by M&C Saatchi in 2008. Sharpe then became chief digital officer at M&C Saatchi in 2009, but left the next year to become a consultant for WPP.
He is credited with leading the successful pitch to retain the BBC's creative account earlier this year, as well as integrating digital agency Saint, which was launched in 2008 and merged into the creative agency in 2012.
As chief executive, he has been tasked with making innovation integral to the agency's creative work. He will report into the agency's chairman, Mark Roalfe, and Andrew Dimitriou, the president of Y&R Europe.
Sharpe admitted he was stepping up to the role after an "annus horribilis" for the WPP shop, which lost big-name client accounts such as Lloyds Bank, after repitching against Adam & Eve/DDB; and Land Rover, a Y&R network account that moved into Spark 44; and Vodafone, for which it repitched but lost to Grey London.
He said: "There is no doubt it is a turn-around job. It's an annus horriblis for Rainey Kelly; some of it was in our control and some was bad luck. We need to turn it around and that is clear."
Sharpe said his priorities for 2015 will be on winning new business and putting into place key staff, such as hiring a new executive creative direct and chief strategy officer.
On new business, he insisted that the agency had a good new business record in 2015, but described it as "too little too late" after losing key accounts.
He said: "There were absolutely some things that were out of our control. But agencies make their own luck. I am a big believer that you have got to win new business before you lose it."
Headcount at the agency is at about 150, which Sharpe said is down on the beginning of the year, and he will conduct a full audit of the agency's staffing requirement over the next three months.
Kay leaves RKCR/Y&R after 11 years at the agency and was promoted from chief strategy officer to joint chief executive, alongside Alison Hoad, in 2011 following the abrupt departure of Richard Exon. Exon and then executive creative director Damon Collins resigned to found Joint.
Prior to joining RKCR/Y&R, Kay worked at Y&R in New York after completing the WPP fellowship.
In his new role, as planning director of WPP, Kay will report to John Steel, the holding company's group planning director. His responsibilities include strategic counsel to WPP agencies and clients, providing new business support, and work on global client initiatives for Martin Sorrell, the chief executive.
Kay said: "Rainey Kelly has been my home for a long time and will always hold a special place in my heart. I'm moving to the side of the business I love most, helping clients to develop strategies and ideas.
"Working across WPP with someone as brilliant as Jon Steel gives me a unique opportunity to do that."
Roalfe said: "Ben has been part of our fabric for many years and we are grateful for all that he accomplished. His new role at WPP is tailor-made for him. At the same time, we are excited to move forward with Jon Sharpe as CEO.
"He is the ideal person to lead the agency now — the right expertise, great creative instincts and a deep understanding of how agencies must deliver solutions across today's landscape."
Dimitriou said: "Jon is a proven leader who not only knows how to drive change, but understands the need to continually evolve. In an industry that is continually reinventing itself, having Jon at the helm will give our clients the services and creative solutions they need today and tomorrow."