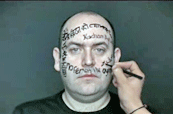 Set to Billy Bragg's version of the hymn Jerusalem, the ad consists of a white man, slowly having his face blacked over by handwriting.
Each script represents a different culture or language, including Arabic or Hebrew.
It ends with the line: "Is white working class Britain becoming invisible?"
The first show in the season, a documentary on a working man's club in Bradford, breaks on 7 March.
Other shows in the series will include a look at the impact of Enoch Powell's "rivers of blood" speech, and an examination of the impact of Polish immigration.