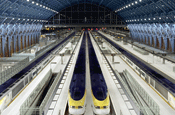 The agency triumphed in a pitch against at least two other undisclosed agencies.
The account was previously held by Hurrell Moseley Dawson & Grimmer, which won the multi-million pound launch task to promote St Pancras station as the new home of the Channel Tunnel Rail Link in January last year.
Swarm, which was set up to handle BT Business and Alfa Romeo, will create a new campaign to attract visitors to the station. It will focus on the St Pancras's retail and hospitality facilities including Europe's longest champagne bar, a gastropub and branches of shops such as Hamleys, Foyles, Peyton & Byrne, LK Bennet and Le Pain Quotidien.
Dominique Didinal, marketing manager at St Pancras International, said: St Pancras International is outperforming even our best forecasts and we are confident that Swarm are the right people to carry on the momentum we have built up thus far.