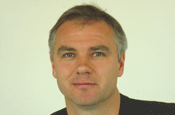 Woods and Hui are the first senior hirings at RMG since Tim Hipperson was appointed as chief executive at the end of 2006.

The agency has been looking to bolster its senior team since Guy Bradbury, its creative director, left to join DDB WWAV Rapp Collins in May. Magnus Wood, the strategy and planning director, was poached by Wunderman three months later.

Woods joined Claydon Heeley as a joint creative director with his creative partner Pete Harle in 2001. Harle will remain at Claydon Heeley as executive creative director.

Hui's departure comes 15 months after he was promoted from head of UK planning to international planning director. He joined Saatchis in 2000, and after a brief stint at Coca-Cola in 2004, returned to the agency as head of strategy.

In his new role, Hui will be responsible for planning across RMG's client base, which includes Visa Europe, Sky Digital and First Direct.