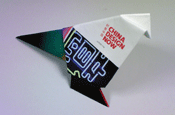 The agency is running the bank's cultural exchange programme, which is kicking off with the China Design Now exhibition at London's V&A museum.
The pigeons will unravel to reveal a piece of modern Chinese artwork with a money-off voucher for the exhibition.
Heather McCracken, group brand communications manager, HSBC said "HSBC was founded in China in 1865 and remains the leading international bank in the country.
"It is therefore particularly fitting that the first major project in HSBC's programme should focus on China."
RMG Connect chose origami birds because it represents the common myth that the Japanese created paper folding with Origami, when in fact it is an ancient Chinese art.
RMG Connect has also designed creative for digital advertising hoardings in 11 underground stations.