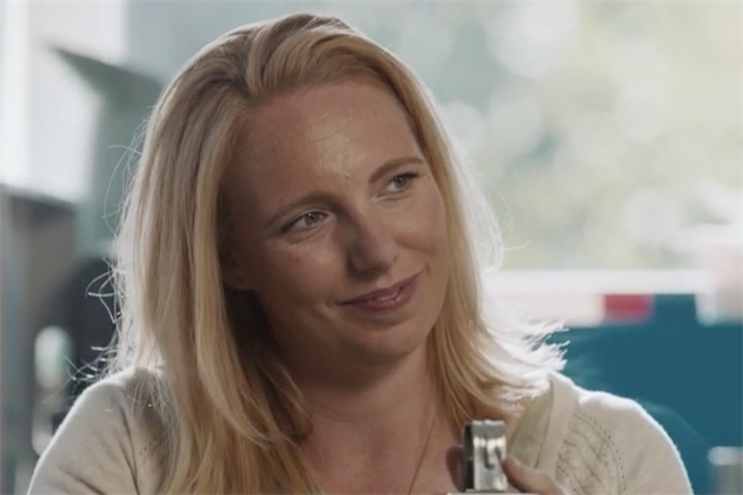 The charity, which has existed in various guises in its 150 year history, is adopting a new tagline – "See differently" – and a revitalised purpose: to be a catalyst for change.
A new logo and visual scheme, created by The & Partnership, is inspired by the bold, easily readable lettering of UK road signs and opticians' charts.
The new campaign, "See the person, not the sight loss", is designed to make members of the public think of blind and partially-sighted people as complex people like anyone else.
A trio of spots, starring three partially-sighted professional actors and voiced by Robert Webb, depict the protagonists getting into sticky situations that other people would be likely to attribute to their sight loss. As the narrative of each one continues, however, it becomes clear the reason for their predicament is something completely unrelated that could apply to anyone.
The spots will run on video-on-demand servcies ITV Hub, All 4 and Sky Player and will be supported by 15-second cuts on Facebook and Instagram, as well as press and out of home.
The campaign was created by Helen Rogerson, Artem Bjork, Jo Griffin and Jane Reader, and the films directed by Big Red Button through Biscuit. The brand redesign was by Marc Donaldson, Loty Ray and Stathi Kougianos. The media agency is Wavemaker.
CHI & Partners, as it was then called, won the account in January 2017, since which it has done some smaller tactical work for the brand, including live experience "Eye test karaoke" at last year's Glastonbury Festival.
Speaking to Campaign, Martin Wingfield, head of brand at RNIB, said the organisation wanted to help build a world in which "the world values blind and partially sighted people, not for the disabilities they've overcome, but for the individuals they are and the people they choose to be".
During RNIB's research about refreshing its brand, Wingfield said, "what we hear a lot of and what came out strongly is that often if you have sight loss, you're seen as the man with a stick or the lady with a dog or the blind person – but the reality is that they're normal people like anyone, with their own hobbies and interests.
"A lot of my colleagues have got sight loss and I just know them as Sarah who likes fashion, or Mark who's a massive Liverpool fan."
The rebrand, he said, was about making the organisation fit for the future and as accessible as possible for the people who need it: "What was crucial was that it works not just for the UK population but also the two million people with sight loss."
That posed a significant challenge, according to Marc Donaldson, who led the redesign. "Because there's over 200 sight loss conditions, you're never going to create something that will appeal to everyone," he said.
The British road sign design – created by Jock Kinneir and Margaret Calvert – that had inspired the RNIB work was "one of the most amazing bits of graphic design", Donaldson said, because "it didn't really date, it was still relevant today, it was easy to apply".
The business of changing attitudes can be slow work, and Wingfield described this as a "very long-term campaign.
"It's not dissimilar to what the mental health charities have done," he said. "Where we see our role is a long-term commitment to change society's attitudes to sight loss."