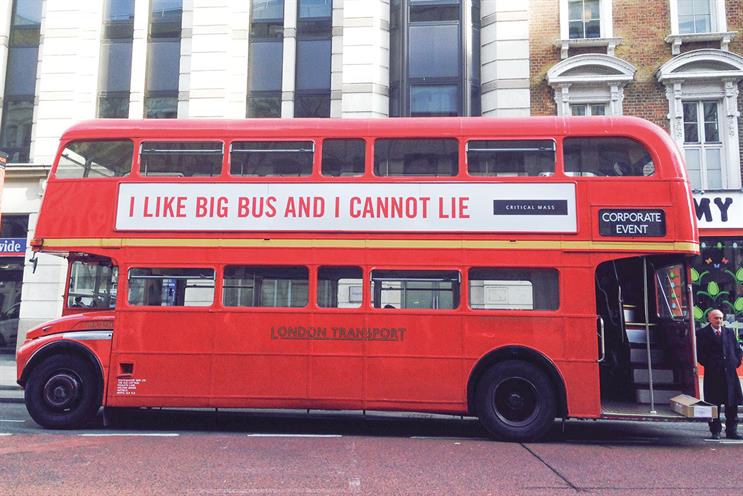 Adforum was in town this week for the first time since 2011. Forty-four pitch consultants, including London's key players and representation from across Europe, the US, Australia and South Africa, met with many of the UK's leading agencies to gain real insight into their views on the future of marketing and creativity.
When we last met in New York, the focus was on the maker culture, digital, content, talent and technology. Attitudes were changing and we heard from agencies that were more business-like, more sharply focused on solving clients' business problems and obsessing, quite rightly, on the results that they could deliver.
During the three days of this year's meeting, we had the privilege of hearing the smartest thinking from Saatchi & Saatchi, Facebook, Havas, Anomaly, MBA, Bartle Bogle Hegarty, Fold7, Sunshine, Hasan & Partners, Perfect Fools, Lucky Generals, WPP, VCCP, Exposure and Forsman & Bodenfors.
As a London representative, I was extremely proud that the rest of the world got to experience the depth and breadth of talent within our industry. London agencies were unashamed in staking their claim in being at the forefront of commercial creativity and made a collectively compelling case for us all to hear.
Some strong themes emerged that will shape the next 12 months.
The London edge
In the increasingly competitive world of global advertising hubs, London's advantage remains its strategic leadership. Great ideas are coming from São Paulo, New York, Gothenburg and others, but the strategic planning of London stands out head and shoulders above the rest.
Digital is everything
There is an exciting restlessness among all the agencies, with digital becoming their lifeblood. Carl Johnson from Anomaly summed it up best: "Think of digital as the power to let you do things you could never do before." This offers a real sense of purpose for the industry going forward.
Havas Media gave a practical display of how this will change the future of creds meetings by loading up its agenda and meeting details on to Motorola smartwatches for us all to use.
The innovator agency
Agencies are aggressively challenging the norm of what creative minds can do. The opportunities are exploding and we saw agencies becoming inventors and creators of new services and businesses. We heard from Al MacCuish at Sunshine about how his agency launched a restaurant chain called Peyote and Ben Fennell at Bartle Bogle Hegarty about its next-generation production company, Black Sheep Studios.
The opportunities are exploding and we saw agencies becoming inventors and creators of new businesses
Changing model
Clients are demanding new ideas, new structures and new models to enable them to reach their customers. Robert Senior at Saatchi & Saatchi announced that "too many global agencies hang on to a colonial structure in a post-colonial world" and it was clear that much effort is being put into finding the optimum model for the post-digital era.
Small is the new black
Marketing innovation often occurs at the fringes. So while there will always be an important role for big multinational agencies, it was exciting to see that there's no shortage of small London agencies founded by accomplished professionals. They bring a real entrepreneurial spirit to the mix and constantly challenge and push forward the status quo.
Frenemies
The new kid on the block at Adforum was Facebook. For the first time, one of the major technology players stepped in to share its vision for the future. We heard dizzying facts of its reach, growth, scale and ambition; and, at the same time, heard that it is a people company that will enable others through its technology.


Moving around London with 43 other pitch consultants sounds like a recipe for disaster, so we lined up a double-decker Routemaster bus to ensure everybody stayed on track. Along our route, several agencies made sure that they got themselves noticed for more than just the quality of their work.
VCCP dispensed with showing us round its offices, creating an amusing video of 44 staffers reviewing their own agency, each equipped with a mask drawn from our Adforum profiles (I looked a bit like Ronnie Barker, before you ask).
Exposure invited two of its most senior clients from Jaeger and Microsoft to join the agency team. It was good to see partnership in action and hear a client say why they rated their agency so highly.
WPP erected a full marquee on the J Walter Thompson terrace, lining up 12 of its top chief executives. Sir Martin Sorrell gave an informal pre-dinner speech, taking questions from the floor and challenging Adforum to help agencies find the solution to the current procurement onslaught.
Saatchi & Saatchi achieved the gastronomic high point with top-class catering and wines. We left feeling very well-fed.
And, lastly, Havas paid an emotional farewell to Kate Robertson, a long-time participant at Adforum, during a dinner at 06 St Chad's Place. We wish Kate well and know she will do wonders at One Young World.
This is an exciting time to be working at a London agency. The industry is vibrant, the leadership is here and the ideas are flowing.

Peter Cowie is a founding partner at Oystercatchers