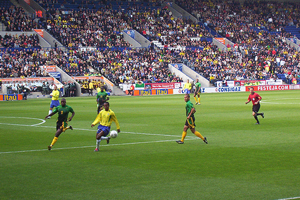 This goal will be particularly salient to agencies such as RPMC, whose mission to Brazil started over three years ago. Indeed, the agency has activated sponsorship on behalf of major companies at Fifa World Cup since France 1998 and is working with seven official sponsors and partners this year, representing over 50% of the total sponsors at the tournament.
The agency will handle more than 100,000 delegates to Brazil, covering everything from accommodation and activation. Coca Cola, AB InBev, McDonalds, Emirates, Sony and Sony Mobile are all among RPMC's clients, along with Moy Park. The latter is hosting a number of business leaders forums in Brazil, with RPMC arranging detailed programmes plus ticket and logistics management.
The agency's London office became something of a ghost ship at the end of May when all 25 account managers headed out to the Rio office, created especially to cope with the sheer volume of work taking place in Brazil this summer. The team will partner with around ten Brazilian employees, who have been working with RPMC for the past three years to ensure that local knowledge forms a crucial part of each programme on offer.
RPMC's chief executive Stephen Hall, said: "Due to the immense scale of the country and distances between the stadia, we have had to really assess the timings with each programme, factoring in internal flights or added timings due to the road infrastructure – you can't underestimate or you risk missing the match itself."
Working with local partners is the approach that many a UK agency working in Brazil has adopted. RT marketing director Ben Rodber, said: "Brazil has its challenges just like any country delivering global sporting events, but from my point of view we have sourced and developed a very strong network of partners here in Brazil and that is what is most important - finding and partnering with local businesses to utilise the local skills and creativity."
The agency has been appointed by the Coca-Cola global hospitality team to create, manage and deliver elements of the beverage titan's 2014 Fifa World Cup hospitality programme following delivery of the same services for the London 2012 Olympic Games and more recently the 2014 Olympic Winter Games in Sochi.
This is an extract from a feature that appeared in the May issue of Event magazine.
To see the full feature, or for more in-depth and print-only features, showcases and interviews with world-leading brands, don't miss the next issue of Event magazine by subscribing here.
Keep up to date with our latest sport news on our dedicated Sport channel, and on social media via the hashtag #EventSportnews.