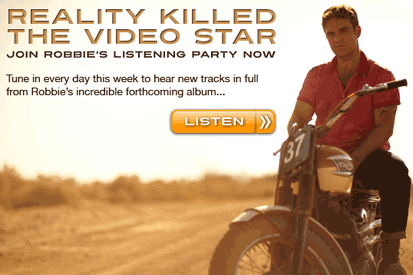 The album is billed as Williams' comeback effort. Spotify's UK users will be able to listen to the full album starting from midnight on Friday, ahead of the launch on 9 November.
At the same time the former member of Take That, who is signed to EMI, has created a Spotify playlist of his favourite tracks that he has recorded, and another of favourites by other artists. They can be accessed via the offical Spotify blog.
Spotify recently signed its first deal with a UK mobile operator to offer its premium subscription service on 3UK on the Android HTC Hero handset, launching later this month. It has also had its iPhone App approved, but this only works for those who have subscribed to the premium service.
The company has warned that unless record companies change the way they charge Spotify for streaming their tracks or more people signed up to the premium service it could close. But the Williams exclusive is a sign that record labels are taking the service seriously and see it as a new way to connect with fans.