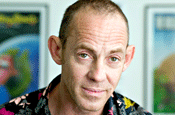 His partner in the venture will be Toby Constantine, the former marketing director of The Times and The Sunday Times.
The pair hope to launch tgi50 on 16 August, which is Madonna's 50th birthday.
The company will offer services such as sales promotion, direct marketing, digital, PR, mobile and search-engine optimisation. It does not plan to produce traditional advertising campaigns.
Campbell said: "It's a challenger organisation to Saga. We will be acting as a conduit for contemporary brands that usually aim at under-35s that now want to target the over-50s market but wouldn't be seen dead in Saga magazine."
Campbell and Constantine will be the managing partners of the new venture.
The pair are in talks with a number of brands and venture capital companies in a bid to build interest in tgi50.