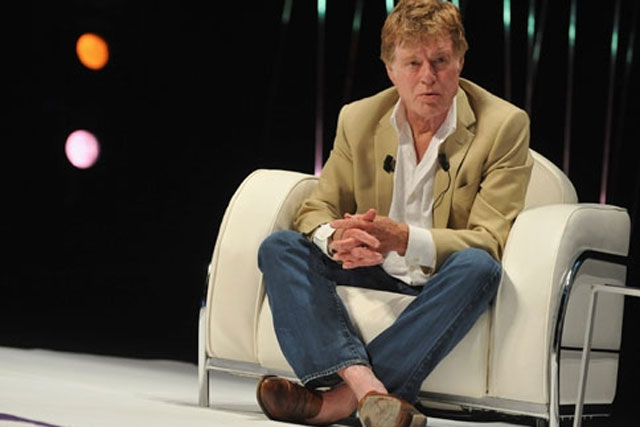 The star of 'Butch Cassidy and the Sundance Kid' turned independent film producer, was speaking in a wide-ranging interview with Yahoo at the Cannes 2011 Festival of Creativity yesterday (21 June).
He said: "Authenticity and quality are key to great brands. Both lead to trust, and you have to have a certain amount of integrity to achieve that."
After many years in front of the camera, Redford now manages his own brand, the Sundance Festival and Channel, which showcases smaller indie productions and recognises upcoming talent and creativity.
Redford explained the premise behind his Sundance empire is to nurture creativity and upcoming talent.
He said: "Nobody votes for a new idea. If no one believes in you, you're going to have to grind it out yourself."
In words of encouragement for those pushing the boundaries of creativity, he added: "You have to look at failure not as the end of the road, but as a step forward."
Redford went on to discuss what makes great storytelling: "Sex...It's something that will inform you in a way you haven't been informed before.
"A good story is something you haven't known. Something that hits your gut, your heart, and therefore your emotions."
Yahoo was announced as partner for the shorts contest at the 2012 Sundance Festival and will create a strong online portal to house the creative work and give audiences chance to vote and comment.
Redford later recalled his first experience of Cannes while hitch-hiking from Paris and Florence as an art student.
He slept on the beach under the pier at the Carlton Hotel and heard the sound of people enjoying themselves above him, and thought: "Man, what would it feel like being up there in a tuxedo and enjoying myself?"
Some 16 years later, he was back in Cannes showing his first film and staying at the Carlton. He said: "I remember looking out at that pier and thinking, 'Oh man'."