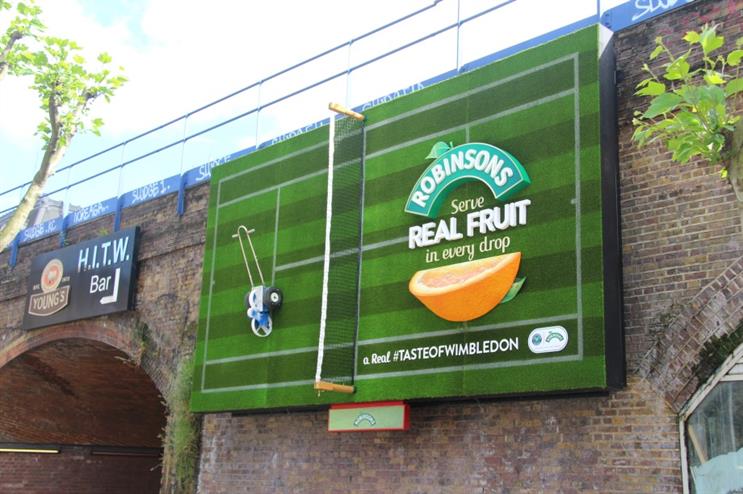 The area around Waterloo station has been transformed into a tennis-themed display to mark the upcoming Wimbledon tournament, with the 3D billboard aiming to bring the real taste of Wimbledon to life, with a replica tennis court and court line machine previously used at Wimbledon.
People will also be able to experience being in the Wimbledon grounds from an umpire's chair through a VR headset and enhanced 360 Wimbledon video.
The activity, which was unveiled on Monday (20 June), is running until 18 July and was devised in collaboration with M/Six and Kinetic Active, while adverts will be displayed across Primesight's Waterloo domination sites.
Kevin McNair, GB marketing director at Britvic said: "We are very proud of the unique history shared between Robinsons and Wimbledon, one of the most important British sporting events in the calendar.
"We're particularly excited about our 3D billboard at Waterloo station which will bring the real taste of Wimbledon to life in a multi-sensory way with real grass and fruit."
Building on the Enjoy Drinking More Water campaign launched in January, sampling activity will take place in workplaces and Wimbledon as well as at the screen and Waterloo station. Shoppers will be able to sample the new Robinsons' flavours, Orange & Peach and Lemon & Pink Grapefruit in stores across the country and will have the chance to win prizes including VIP Wimbledon tickets.
The Robinsons brand has a long association with Wimbledon dating back to 1935, when Lemon Barley Water was first created in the changing rooms at The Championships.
The Championships, Wimbledon 2016 runs from 27 June to 10 July. Last year, Britvic renewed its partnership with the iconic sporting event until the end of 2020.
Comment below to let us know what you think.
For more activations and experiential campaigns in London, download our latest report, London's Experiential Playground.