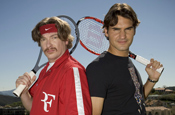 Nike's tennis ad features comedian Rhys Darby, who plays Murray the band manager in cult HBO comedy show Flight of the Conchords, which airs on BBC Four in the UK.
In the ad, Darby plays the coach who keeps Federer on his game by testing him when he least expects it.
The coach strikes in Federer's home, where an impromptu match ensues, destroying the tennis star's house and ending in the coach's defeat.