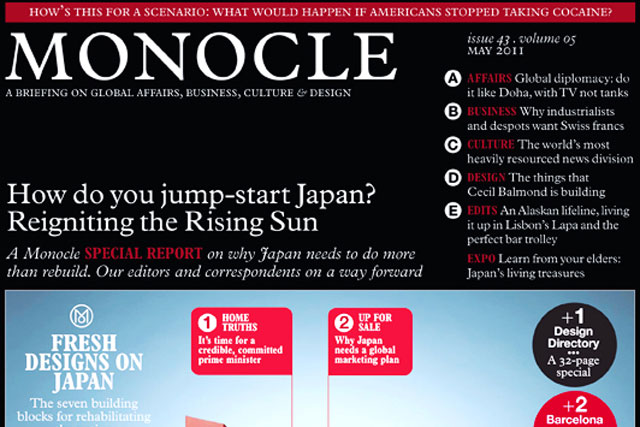 The station will have four live shows each weekday and daily live shows on Saturday and Sunday with hourly news, global weather reports and programmes on business, culture, design and urban affairs.
Brands advertising on the station also include Swiss bank Pictet, luxury travel operator Kuoni and Korean Air.
The radio station will be available on Monocle.com through iTunes and a dedicated Apple application. It will feature Monocle's editors and correspondents from across the world as well as special guest hosts.
Monocle 24 will build on the Monocle Weekly podcasts, which began in 2009.
Tyler Brûlé, editor-in-chief, Monocle, said: "We wanted to build a unique mix of smart talk, truly global news and a great soundtrack to live your day and night by. Like the magazine it will be both knowing and witty, hard hitting, and off beat."
Monocle has employed 12 new staff to work on the station and all programming will be produced in-house at Monocle's purpose built studio in the company's new office space in Marylebone.
When asked why the magazine was expanding into radio Brûlé said: "It's still, after almost a century of regular broadcasts, the most intimate medium in an ever expanding buffet of choice.
"Would you prefer to be seated at a cosy table with four dazzling hosts with the best tips and tales or in a crowded room full of shouty people? I know what our readers would prefer."
Follow Maisie McCabe on Twitter @MaisieMcCabe