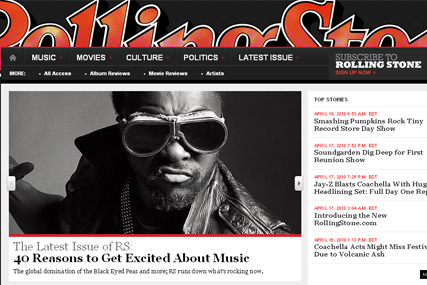 The fortnightly publication is placing a paywall around content on its site, becoming one of the first major magazine titles to do so.

The magazine's home page will be free to users for the most part, but in order to access the full content of the latest issue of the title and the magazine's archive, users will he charged $3.95 (£2.56) for a month's pass. A year's subscription costs $29.99 (£19.68).

US online subscribers will automatically get a free print subscription.

RollingStone.com had about 1.3 million unique visitors in March, with 9 million page views, according to comScore, while rival online music site Pitchfork had 906,000 visitors, but 19 million page views.

Steven Schwartz, chief digital officer of Wenner Media, the parent of Rolling Stone, said that despite 20% fewer print ad pages than the year before, the magazine was still profitable, with an average circulation of 1.5 million in 2009, up from 1.3 million in 2000.

The title was founded in 1967 and famous contributors have included Hunter S Thompson, Tom Wolfe and Annie Liebowitz.