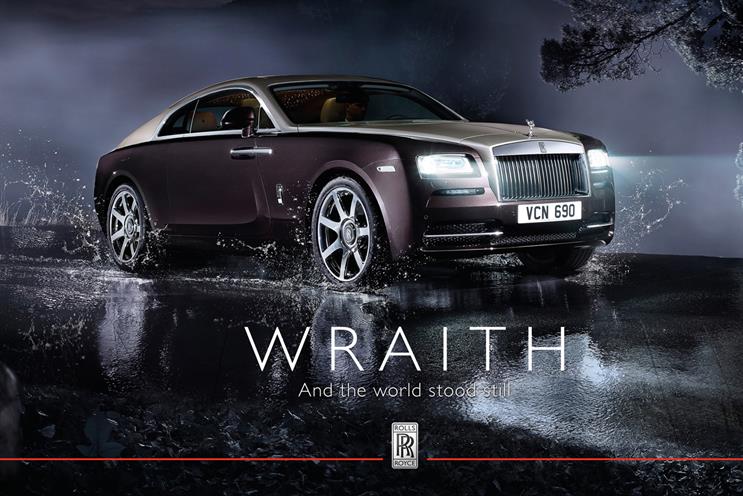 The account, which mainly covers digital work such as online films and direct marketing, is being reviewed through AAR in a procurement-led process.
Requests for information were sent out last week and Partners Andrews Aldridge is expected to repitch for the business.
Partners Andrews Aldridge has worked with Rolls-Royce since 2008, focusing primarily on CRM, trade events and direct marketing. It fended off competition from Publicis Chemistry to retain the business in 2011.
In March, Rolls-Royce launched a campaign for the new Wraith sports car. The activity included a two-minute noir-style film by Partners Andrews Aldridge. It featured a Wraith, which is priced from £235,000, passing a woman on a misty road at night, with a freeze-frame effect and the tagline: "And the world stood still."
The film was shown at exclusive events for Rolls-Royce owners in London, Miami and Los Angeles, and has clocked up 267,000 views on YouTube.
In 2011, Rolls-Royce created a global campaign to celebrate 100 years of its "Spirit of Ecstasy" car bonnet ornament, with images taken by the photographer Rankin.
A Rolls-Royce spokesman said: "Rolls-Royce Motor Cars has commenced a pitch process for the global lead agency partner contract as part of a standard statutory review."
The brand posted record global sales of 3,575 cars last year in its third consecutive annual rise.
Rolls-Royce and Bentley were both owned by the British aircraft-engine man­ufacturer Vickers until 1998, when BMW bought the rights to the Rolls-Royce name. It then set up the Rolls-Royce Motor Cars company in 2003 after a rights settlement with the fellow bidder Volkswagen, which now owns Bentley.
The British engineer Henry Royce and the car dealership owner Charles Rolls founded the original Rolls-Royce Limited in 1904.