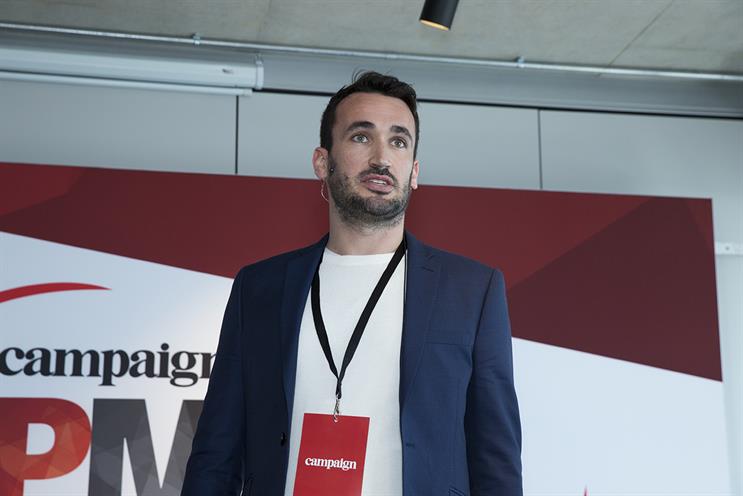 Collaboration and data exchange between performance marketing and creative agencies can measurably boost returns, results from campaigns for Aldermore and Hiscox have shown.
But you have to be prepared to share, says Jamie Hoey, client strategy director at digital marketing agency Croud.
"Sharing data is key," he says. "It's about being able to extrapolate the top three things from the data and sharing it – especially relating to audiences. If it's a better understanding of demographics then it can be taken and used. Agencies have to do better and be more client focused – they need to be getting in a room together."
Bossing it
Speaking at PM360 in Brighton, Hoey explained that it was a strategy that paid off when Croud started work for Aldermore – the challenger bank, specialising in customers who might not qualify for a standard high street account. They found the bank's branding wasn't always translated successfully across to performance marketing assets.
"The reason the ads didn't always achieve their full potential was that they were being designed by a branding agency who had the brand awareness and other metrics, but they didn't filter through to results. We literally got in a room and worked with them across the board – the client, the brand agency – to come up with a narrative."
The resulting campaign: 'You're the boss' [example creative pictured above] was aligned with performance marketing data to create an improved customer experience. "It was a better brand journey," says Hoey.
"Now we had aligned the creative with the data, it performed 23% better. And crucially, the results started to translate. That helps us and helps the client."
No more secrets
For performance marketers particularly, good data is gold. Understandably, it can feel tricky to play nice and share, but according to Hoey, this is essential for the benefit of the client.
"The best work gets done with the best data we've got, and if that means sharing it and then reaping better results, then that's absolutely what we have to do. The days of trying to keep things secret don't work anymore, especially when there are so many different people in the mix," he explains.
"We have to make sure there is continual alignment, from the TV creative pieces, right through to search copy. Agencies are better as a whole than as single entities, but the picture needs to be complete and we need to align."
Insurance giant Hiscox saw the value of this alignment first hand when Croud collaborated with media agency Goodstuff to deliver its 'real world' hack campaign highlighting cyber-crime.
First, Croud began by looking at in-market audiences for Hiscox, to help them understand their audiences better and define the types of people they could target for the same spend.
"We didn't spend any more – it's not going to cost the client any more money to do this, it's about being clever with where you put the budget," says Hoey. "And our audience-based spending increased significantly. There was simply a massive shift in where we put the money and then the results started to speak for themselves."
In fact, Stuart Mahoney, head of acquisition marketing at Hiscox, has said: "Leveraging in-market audiences has been a key driver of achieving best-in-class audience depth in the business insurance space, as well as helping inform our wider strategy."
Creative and data mean results
Not only did the campaign increase quote volume by 8%, it also reduced the cost per quote by nearly half. Hoey believes this data validates the approach to performance techniques. "We know we've got the data, we know the insight is there, so we need to go out and use it," he says.
The next step was to take that performance data, along with the in-market segments and to overlay it with branding. This is where the collaboration with Goodstuff came to life. Croud used its own market data and put it into Goodstuff's work and strategy.
"We let them see the success of what we were doing with PPC. We saw a massive uptick in branding metrics," says Hoey. "We do need to be measuring right and if we can do this then we can optimise it better. We need to make the spend work harder and as agencies that's where we need to push it."
But Hoey acknowledges that it's not always going to be love at first sight between agencies. Of course there will be challenges, he says, and different agencies will have different ways of working.
"It's like entering into any relationship," says Hoey. "It's not going to be the smoothest immediately but I think over time you learn all the idiosyncrasies of the other person and you get a much healthier balance."

Hoey's four calls to action
Performance marketers have tangible insight, ultimately we're the people at the tip of the sword; we know exactly who's buying the product. We have a depth of knowledge and a wealth of information – let's use it, let's share it across.
The creative idea should not form the audience strategy. Knowledge of the audience has to come first and inform the creative strategy. You shouldn't shoehorn in a fantastic piece of creative – your audience and your customer have to come first.
Innovate. The channels that we work in, they do innovate often because they have to. If they don't then someone else will come along and do it – let's embrace that and optimise.
Leverage the measurement frameworks. Data driven attribution and those types of models have an immense value and allow us to look at the pounds that we spend more effectively and more efficiently.
The session…
Stronger Together: the role of performance marketing in brand building, with Jamie Hoey client strategy director at Croud – took place at PM360 in Brighton in May. For more information on Croud, see here.