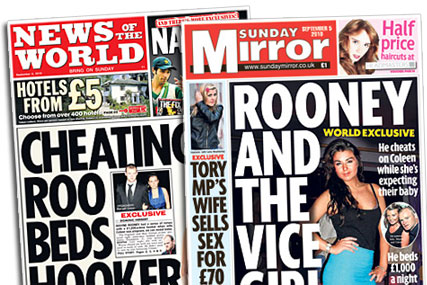 Reports in the News of the World and the Sunday Mirror over the weekend claim Rooney had paid an escort girl up to £1,200 a night.
But his lucrative deals with Nike, Coca-Cola and computer games manufacturer EA Sports look likely to stay in place despite the allegations.
A statement from Nike said: "This is a private matter for Wayne and his family and we have no further comment to make at this time. We have worked with Wayne for seven years and he continues to be a Nike athlete."
A statement from Coca-Cola said: "This is a private matter for Wayne Rooney and his family. We will be making no further comment at this time."
A statement from EA Sports said: "This is a personal matter and we respect Wayne and his family's privacy. We have worked together for six years and Wayne continues to represent EA Sports. We will be making no further comment at this time."
Rooney earns an estimated £5m a year solely from his Manchester United wages, reportedly £100,000 a week.
His wedding to childhood sweetheart Coleen swelled his fortune with Hello! magazine paying £1.5m for the photo rights to his wedding in 2008.
Rooney also signed a deal with Harper Collins, reportedly the biggest UK sports book deal in publishing history, which included a £5m advance plus royalties for a minimum of five books over a 12-year period.
His wages plus his endorsements have catapulted him into the Sunday Times Rich List, which this year reported that he had earned £33m at just 24 years of age.
Sponsorship specialists reacted to the allegations by taking the view that Rooney's brand paymasters will judge him mainly on his footballing qualities.
Nigel Currie, director of marketing and sponsorship consultancy Brand Rapport, said: "There is a huge amount of marketability in the celebrity couple and Wayne and Coleen Rooney have often been seen as a younger Victoria and David Beckham, with Coleen as her own brand if you like.

"The celebrity couple as a whole is very, very marketable to various brands and Wayne and Coleen are still likely to attract brands.

"If Wayne's football stands up he will always attract sponsors, and he will always be box-office for brands."

Tove Okunniwa, managing partner of sponsorship specialist MEC Access, said: "Rooney's ability and popularity amongst fans will allow him some leeway; his associations are based on his exceptional football ability.

"However, one would assume that he cannot afford a repeat and will have to keep on the straight and narrow. It might be a private matter but it would be naive to think it won't be a consideration in future."
The Manchester United and England striker put in a lacklustre performance in this year's Fifa World Cup in South Africa, where he failed to score a single goal. The England team exited early, ahead of the quarter-finals to criticism from the press and public alike.
Coleen Rooney has forged her own career with deals to promote Littlewoods and up until 2008 was the face of supermarket giant Asda.
In February, Rooney starred in an advertising campaign for Coca-Cola brand Powerade.
In the advertising campaign a shirtless Rooney, fuelled by Powerade, took on a shirted Wayne fuelled by water, in a one-on-one skills and endurance duel. The ad was created by Mother.