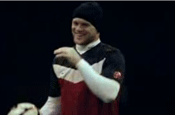 The short film, shot as if it was captured using a mobile phone, sees Rooney and Rio Ferdinand playing a five-a-side match with some teenage kids.

When one of the youngsters nutmegs Rooney, kicking the ball between his legs, Ferdinand breaks out in uncontrollable laughter.

The 30-second film, which acts as a teaser for the Nike 5 campaign set to break next week, ends with the strap line "show Your 5" and drives viewers to the Nikefootball.com website.
Nike 5 is a nationwide, Nike-backed five-a-side football tournament that will launch on February 20.