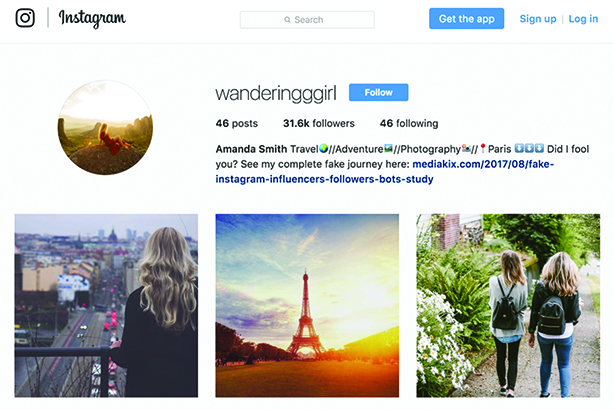 Fakery is not a new problem in influencer marketing, but some are calling for faster and more decisive action against those who inflate their following and engagement rates for commercial gain. The PRCA, in particular, questions why regulators fail to act as strongly on fraudulent influencers as they do against commercial activities between influencers and brands that are not flagged as such.
Recent stories have thrust the issue into the spotlight. In August, US marketing agency Mediakix secured brand sponsorship deals for two fictitious influencers – a lifestyle and fashion Instagrammer calibeachgirl310 (pictured, right), and a travel and photography influencer wanderingggirl – after acquiring Instagram followers for less than $300 (£231).
It is an extreme example, but shows how easy it is to trick brands to part with cash under false pretences. It shows the downside of brands relying too heavily on data. For its experiment, Mediakix used an influencer marketing platform, a virtual database where brands can find a match with influencers for specific activity. The process is fully automated with no manual, human checks in place.
Lynsey Smith, associate director at PR agency Halpern, says: "In the past year we have seen a rapid increase in the amount of influencer platforms offering brands quick wins when it comes to partnering influencers. Brands are attracted to high reach, 'guaranteed' impressions and engagement, but how valuable is engagement if it isn't real? Data isn't the solution to everything, and in isolation – without good old-fashioned logic – it can be dangerous."
The case shows how forgeries are getting more sophisticated. Mediakix started by buying fake followers, initially about 1,000 per day to avoid Instagram's suspicion. The agency claims it was able to acquire up to 15,000 at one time, however.
To give the illusion of engagement, it then started buying 'likes' and comments, paying about 12 cents per comment, and $4-$9 per 1,000 likes. For each photo, Mediakix bought 500 to 2,500 likes and 10 to 50 comments, and engagement was scaled up as the follower count grew. Once the 10,000 followers mark was reached, Mediakix could sign up the accounts for new brand campaigns.
Evan Asano, Mediakix founder and CEO, says: "It's hard to tell whether there is more fraudulent influencer activity happening, but more brands are working with influencers and more brand dollars are flowing into the space, so, as a result, more brands are likely [to be] affected by this."
Others agree the problem is getting worse. "We are seeing it more, but I do not get the impression that the buying of followers is being moderated in any shape or form," notes Hannah Saunders, whose eponymous fashion, beauty and lifestyle agency handles influencer marketing.
"People are just being ripped off left, right and centre. That's where Instagram has a duty to protect brands and people who use that platform to market their services."
---
Also see: Just trust us – what influencers want (and don't want...) from brand tie-ins
---
Social-media platforms say they are acting. An Instagram spokeswoman said: "We take spam and inauthentic behaviour very seriously and have a number of teams dedicated to detecting fraudulent behaviour and shutting it down. We consider services that automate likes or follows to be spam, and we will continue to remove them."
In April, Instagress, a service that helped Instagram users add followers, was forced to close following action by the picture-sharing platform.
In-house fraud detection
Meanwhile, Instagram's parent, Facebook, says for several years, it has been working to detect fraudulent activity and shut it down, via dedicated teams using automated and manual systems. Action has included blocking and removing 'bad' accounts.
In a blog post from April, H Kerem Cevahir, a site integrity engineer at Facebook, said the platform has made "big strides" in this area. "Major improvements" since last October included using more advanced pattern recognition technologies to detect fake activity. Fake likes have been removed, Cevahir stated, and since March 2015, 200,000 page administrators have been told their accounts have been protected from these.
Twitter declined to comment, although its terms of use define the selling or purchasing of account interactions (such as followers, retweets, or likes) as spam, which can lead to temporary or permanent suspension from the service. PRWeek contacted two of the other main platforms, Snapchat and YouTube, but had received no response from either at the time of publication.
None of the platforms detailed how many websites or individual account-holders have been subject to action, and a simple Google search reveals many businesses still advertising follower and engagement-buying services.
Among the most audacious (but legal) is Manchester's Greedier Social Media, which says it can provide "UK Twitter followers, targeted Facebook likes, Instagram followers [and] YouTube views all from only £2.99". It boasts more than 150,000 "satisfied customers".
Incredibly, Greedier listed Adidas, the BBC and Universal as "clients" on its website. Contacted by PRWeek, all three organisations denied this claim, and Adidas and the BBC said they would speak to the company. The Adidas logo was later removed, and replaced by Audi, which also denied any knowledge of the online service. Greedier did not respond to PRWeek's requests for comment.
Is it time for regulators to act? PRWeek contacted both the Advertising Standards Authority, the industry-funded self regulatory organisation, and the Competition and Markets Authority (CMA), the Government's competition watchdog. The ASA says it does not regulate the act of buying followers and likes, as it is not to do with advertising.
The CMA, which has intervened in influencer marketing in the past to expose cases of paid-for influencer activities not being promoted as such, is also not looking into the issue.
The PRCA believes regulators must intervene. "Influencers should be authentically influential and not built upon the vacuous foundation of bought social media," says Nicholas Henry Dunn-McAfee, head of public affairs, policy, and research.
"If regulators are enforcing rules that require influencers to disclose paid endorsements, for example, then why does this sit outside their remit? The end result is ultimately the same."
Others favour self-regulation. James Chandler, chief marketing officer of the Internet Advertising Bureau, says: "If there's any regulation, it should be self-regulation by Instagram so people know what they're buying."
But brands and their agency representatives also have a responsibility to wise up. Mediakix's Asano says Instagram "could better identify and clean out those bot accounts that may be contributing to the problem", but he adds: "It starts with generating broad awareness about this problem by calling it out both to brands and influencers.
"Brands and agencies should definitely educate themselves and/or work with influencer marketing companies who are experts in the space."
---
HOW TO SPOT A FRAUDULENT INFLUENCER
"Huge numbers, no engagement."
Dan Neale co-founder, Alfred
"Generic comments that are vague and meaningless. If an influencer has 50,000 followers on Instagram but their photos are only getting 50 likes, it can be pretty clear they are not authentic. If you spend the right amount of time looking at who you are recommending and making sure of their profile, it shouldn't be much of a problem."
Anna Thomson business director, Kaper
"A clear warning sign includes whether the influencer has experienced a large spike in followers or engagement in a short period of time. The influencer could have run an incentivised competition, but if they haven't, you should be questioning how the increase happened so rapidly. There are various free tools available to run a check on an influencer's followers – so if in doubt, check."
Lynsey Smith associate director, Halpern


Read next: Influencers evolve: new research gets inside the minds of the modern media masters

Attending our seminar? Influencer marketing: quiz the regulators and hear case studies at PRWeek breakfast briefing next week


This article was first published on www.prweek.com