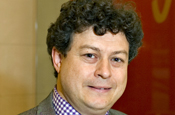 His nomination will be endorsed by the IPA council at its meeting on Thursday afternoon, before his installation at April's annual meeting.

One of the industry's most colourful characters, Sutherland, 43, will not only be the first creative to have led the trade body in its 91-year history, but also the first to come from a direct marketing background.

His nomination ends three months of sounding out potential candidates by an IPA committe.

The search for a successor to Moray MacLennan, the current president and M&C Saatchi chief, is believed to have been a difficult one, with potential candidates reluctant to commit time to the job during an economic downturn.

Sutherland, well known for his professorial demeanour, charismatic style and compulsive blogging, joined OgilvyOne in 1988.

He worked briefly in account management before switching to copywriting and became the creative director in 2001.

Most recently, he has adopted a high-profile ambassadorial role for OgilvyOne.