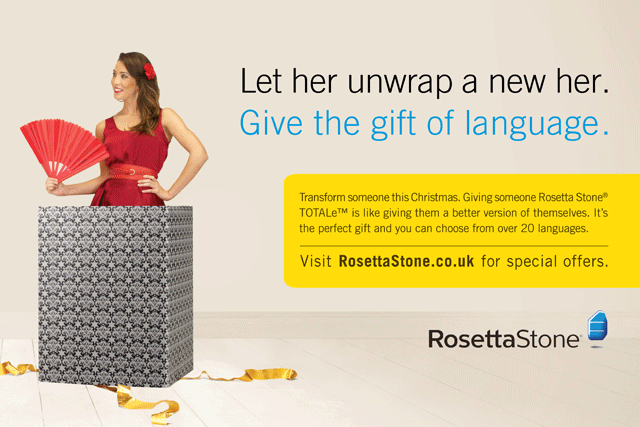 The campaign, created by MBA, debuts this week and is running across digital and outdoor channels.
The campaign marks a shift in strategy from previous campaigns, which have focused on the speed of learning that Rosetta Stone offers customers.
Outdoor ads are running currently, while digital ads will launch in the UK and Germany next week and will run for the next five weeks.
The ads promote the brand as a Christmas gift that can transform people through language, demonstrated by a picture of a woman receiving a different version of herself in a big gift box, and using the strapline: "Let her unwrap a new her. Give the gift of language."
MBA won the brief for Rosetta Stone earlier this month after a review that kicked off in September.
In 2009, the brand created an ad featuring Olympic medallist swimmer Michael Phelps, plugging Rosetta Stone as the way he learnt Chinese quickly in the run-up to the Beijing Olympics.
Rosetta Stone is used by a number of schools and business organisations, as well as by individual consumers around the world.
Follow Loulla-Mae Eleftheriou-Smith on Twitter @LoullaMae_ES