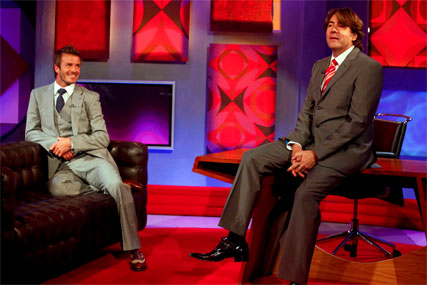 Bowing out with a host of A-List guests on his famous black sofa, including David Beckham, Mickey Rourke and martial arts superstar Jackie Chan, the show will put an end to 10-years of the show and Ross' controversial stint at the broadcaster.
Comedian Graham Norton will slip into Ross' Friday night slot from October.
Signing off, Ross is set to not only destroy the studio set, but also state that "95%" of his guests were great.
Ross first courted controversy with his estimated £18m three-year deal at the BBC, which Ross joked was "worth 1,000 BBC journalists" and attracting widespread condemnation.
The deal covered 'Friday Night With Jonathan Ross', the presenter's late night film show and his Saturday radio show.
The controversy continued when he made lewd suggestions to both the then Conservative leader David Cameron and Hollywood superstar Gwyneth Paltrow.
However, his time at the BBC will not be best remembered for his television chat show, but for his Radio 2 show where he left explicit messages on former 'Fawlty Towers' actor Andrew Sachs' answering machine along with actor and comedian Russell Brand.
The incident last year became known as "Sachsgate" and led to Brand and Radio 2 controller Leslie Douglas quitting the station and a three month suspension for Ross from his BBC duties.

Ross ends the show tonight on a positive note: "Everyone here at the BBC has always been terrific. The experience I've had here has been a blessed one. I've never come in here feeling anything but grateful, lucky and honoured. So thank you."

Ross will not be retiring from the chat show circuit, but is taking a year out before commencing a new chat show at BBC rival ITV to be broadcast in late 2011 and early 2012. During his year out, he will write a comic book.

The new series, commissioned by ITV's Director of Entertainment and Comedy, Elaine Bedell, will be co-produced by ITV Studios and Jonathan Ross' Hotsauce TV production company and will air in a peak time slot on ITV1.
The series is likely to be shown on a Saturday night after 'The X Factor' and may fill the gap left by Sir Michael Parkinson, who quit the broadcaster in 2007.