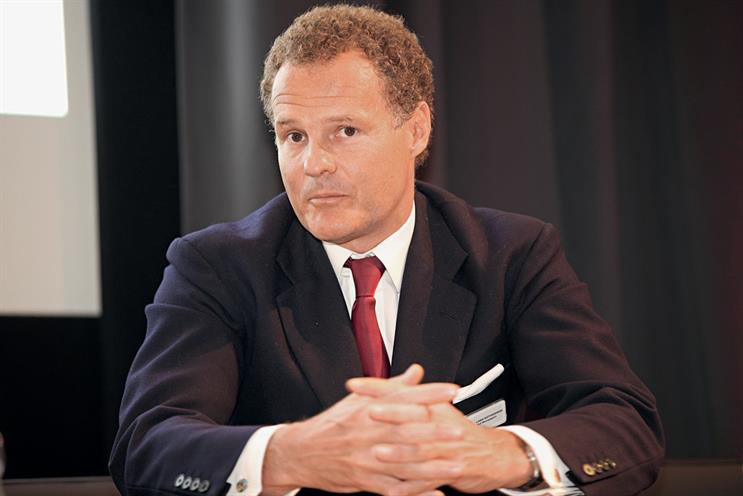 Much has changed in the 15 years that the fourth Viscount Rothermere has been in control of Daily Mail and General Trust. Still only 45, the proprietor of the multimedia conglomerate, home to the Daily Mail, Metro and Euro­money Institutional Investor, silenced any doubters long ago and continues to prove to be a versatile leader.
Rothermere cuts a tall, well-groomed figure, but is surprisingly congenial. He responds to all questions put to him at a Newsworks conference with little hesitation and in a conversational manner.
"I'm very fortunate to come from a family where we believe in editorial and creativity – that's a major thing in our organisation," he says. "And because our family are entrepreneurs, we sympathise and empathise with entrepreneurial spirit, and that has allowed us to diversify our business internationally."
DMGT owns, or has a stake in, 33 companies, with its mass-media operations contributing to just 22 per cent of profits last year, down from 80 per cent when Rothermere (aka Jonathan Harmsworth)became the chairman in 1998 after the death of his father. The shift reflects a profitable portfolio of business-to-business operations, as well as the decision to offload the Evening Standard and Northcliffe Media, its regional newspapers arm.
Yet it is the emergence of Mail Online that has captured Rothermere's imagination. The website is on track to report full-year revenues of £45 million in September and is expected to reach £100 million in the next three to five years. And Rothermere believes this is just the beginning – the goal is to double its size and compete with the likes of Yahoo! News.
'Rothermere speaks a language that none of his ancestors would understand'
ComScore data for March highlights the challenge that lies ahead: Mail Online had 46.4 million visitors that month; The Huffington Post 73 million; and Yahoo! News 235 million.
Core to Mail Online's growth plan is to build on the 60 per cent of total traffic already coming from overseas, with the promise of the first non-English-language version looming on the horizon.
"In the US, you can't ignore the Spanish [speakers], so we're looking at that," Rothermere reveals. "Then it will probably be Australia – it's a small market but gives us access to all the English-speaking markets; we can make it a base for all of South Asia. And you can't ignore India: a huge market. We've got a Mail Today partnership where we get a lot of traffic in India, from a good demographic. We will try to capitalise on our success there."
He may descend from quintessential newspaper stock, with a lineage that includes the Daily Mail founders Alfred and Harold Harmsworth, but Rothermere speaks a language that none of his ancestors would understand. The focus for the man who holds a controlling 21 per cent stake in DMGT, valued at £530 million, is on technology and rich data, not least presumptive advertising.
"Web 3.0 will be the utilisation of big data, or unlimited data-processing, together with a lot of personal information, enabling us to really target individuals with a prescient message, whether it's advertising or news," he says. "Companies that invest in that, or understand that, are going to get a head start."
He views Twitter, Google and Facebook as "frenemies", calling the term "that awful word, but it's so true". He adds: "They are going to compete for advertising dollars, that's undoubtedly the truth, but they are a huge source of traffic for us. We are the most-shared site on Facebook in the UK and growing to become the same in the US.
"Twitter could be a big marketing tool if we used it more effectively. I don't think we do that yet. But, as a primary source of material, we are finding it as one of the major sources of news stories."
An insight into the dynamics of Mail Online is that its journalists are trying to create news from Twitter "within about three minutes".
Rothermere believes "another big sea change" will be the arrival of richer advertising and video content: "The growth of video for our organisation is really going to be seminal. And that's a challenge for us, because we're not great at video content. But it gives us the opportunity of competing with television channels in the long run."
These ambitions evoke a family spirit. His great-great-grandfather launched the Daily Mail; and his father, the Mail on Sunday. For Rothermere, Mail Online is where he can make his mark.
When asked where the power of the publishing group will lie in the next five years, the owner hesitates for the first time, before revealing: "Mail Online. I feel very optimistic about that. If we make the right calls and invest more in content and grow our traffic, it can be a bigger business than the Daily Mail – financially, in terms of reach, and everything else."
Music, no doubt, to the publisher Martin Clarke's ears.



The lowdown

Age: 45
Family: Married to Claudia Caroline Clemence; five children
Education: Duke University; Gordonstoun School