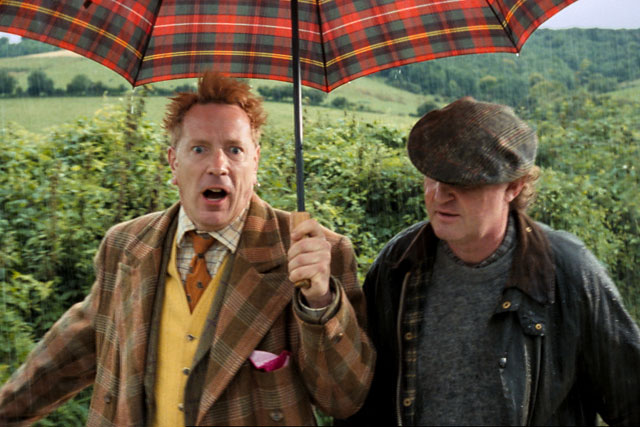 You have got to admit that Paul Fraser, Dairy Crest's marketing director, has got some nerve for allowing John Lydon, aka Johnny Rotten, to extol the virtues of Country Life butter with all the bravado with which he once sneered: "I am an anti-Christ."
And you have to hand it to Dairy Crest for holding its corporate nerve by steadily upping its adspend - now around £20 million a year - and continuing to invest in its brands at a time when many consumers have traded down to cheaper alternatives.
Fraser is under no illusions about the stern tests that lie ahead. Yet the success of the Country Life campaign in particular and Dairy Crest's marketing strategy in general means the company can face the future with confidence.
Since signing Lydon, Country Life has achieved a 25 per cent year-on-year volume growth.
What's more, Country Life is not the company's only success story. Sales of Clover, its low-fat spread, have soared since its relaunch a year ago, backed by a campaign highlighting its health credentials. And the Cathedral City cheese brand, also the subject of a recent makeover (and with new print advertising due to break shortly), has trebled its value to £220 million in the past five years, with sales up 12 per cent last year (not bad for the oldest brand in the portfolio).
Frijj, the flavoured milk drink, has been winning over its target market of young men via the internet, while milk&more, which allows consumers to order their groceries online for delivery with their morning pint, now has more than 300,000 registered customers, breathing new life into a seemingly moribund doorstep service.
Tough decisions
Riding out the recession while positioning Dairy Crest to take advantage of the upturn has involved some tough calls. Fraser admits there was a time when the company was compelled to focus much of its advertising on price simply to stay in the game.
Moreover, because of the sector in which Dairy Crest operates (cheese takes two years to mature), there is the conundrum of matching supply to future demand. As Fraser points out: "You can't suddenly decide to make less. It's a very difficult market to manage."
Of one thing, though, he is certain - that Dairy Crest will reap long-term rewards for underpinning its brands now.
"Consumers see frugality as a stopgap, not a permanent change, and they remain loyal to brands they have always been familiar with," he says. "Families may be economising by eating out less, but they still want quality food at home. It's about value, not price. We've made some difficult decisions, but we've not cut a single piece of advertising. We've delivered the numbers and that's given us the confidence to stick to our guns. We feel we've done the right thing and that we'll start to see the pay-offs from now on."
Equally clear is the part the Lydon campaign has played in cementing Dairy Crest's transformation from its previous life as the processing arm of the Milk Marketing Board.
"The campaign has been a pivotal moment in our advertising," Fraser declares. "I hope it will encourage us to be more daring - but not reckless - in the future."
The Country Life advertising was born out of a need to turn the brand into more than an also-ran behind its entrenched Anchor and Lurpak rivals. The obvious point of differentiation was Country Life's status as the only British-produced butter brand sold by the major supermarkets. But how best to articulate its "Britishness"?
"Jingoism rubs the British up the wrong way," Fraser explains. "Our national pride manifests itself in different ways. Lydon is independent-minded but a very proud Briton."
A bold approach
Using such a colourful and controversial character was the idea of Grey London, Dairy Crest's lead creative agency, which presented a rough script. "It was a bold idea that made the hairs on the back of my neck stand up," Fraser admits.
Mark Allen, the chief executive, and his fellow directors were quick to back Fraser's judgment. Allen's only concern was whether there might be anything in Lydon's history that could reflect badly on the company. One incident at a Barcelona music festival a few years ago led to Lydon being accused of racism - which he strongly denied. It was checked out, however, and not thought potentially harmful.
Even Fraser admits to being surprised by the scale of the campaign's success. "It's indicative of what a marketing-led business we have become," he says.
But if the Country Life campaign is a significant signpost, to where is it pointing? Fraser believes there is a lot of scope for applying the lessons learned from one brand's marketing to another.
One example is Frijj, which has moved further into digital marketing courtesy of an online gaming idea from Universal McCann, appointed in July 2009 to handle Dairy Crest's media planning and buying account.
Another is milk&more, where the hiring of additional digital expertise has been central to its development. "As a result, we have been doing a lot of work on CRM," Fraser says. "Now we can share that learning in the hope that our more traditional FMCG brands can benefit from it."
How are agency relationships holding up throughout all of this? "Universal McCann is still learning about our business," Fraser says. "As for Grey, we and they have our ups and downs but I don't want our agencies just telling us what they think we want to hear."
And he is no fan of what he calls a "slash and burn" approach to remuneration: "In some cases, we have found that we have not been paying our agencies enough."
One surprise is followed by another when Fraser declares he still has "a heck of a lot more" to learn about marketing, even though he's been at it for a decade. He should be pretty good once he gets the hang of it.
THE FRASER LOWDOWN
Getting a taste for marketing
Paul Fraser could fairly claim to have got sucked into marketing, having moved steadily from its outer limits towards the central role he now occupies.
Indeed, his first job had nothing to do with marketing but was in the HR department at BT. "It was exceedingly dull," he says.
Local boy makes good
Born in Blackpool, Fraser defied the lacklustre reputation of his local comprehensive - "it wasn't a hotbed of learning" - by winning a place at Sheffield University.
His decision to switch from accountancy to a business studies course reflected what he says was a burgeoning interest in why people think and act as they do.
Making the change
His transition from BT to a marketing career came as an account manager at the research company IRI, where his work involved evaluating marketing data for a number of major FMCG companies.
Spreading into Dairy Crest
Within two years, he'd joined one of them, Sara Lee, where he graduated to a senior marketing role. He was hired by Dairy Crest in August 2003, initially as the marketing controller on dairy spreads.
He has been the marketing director for cheese, butter and spreads for the past five years.