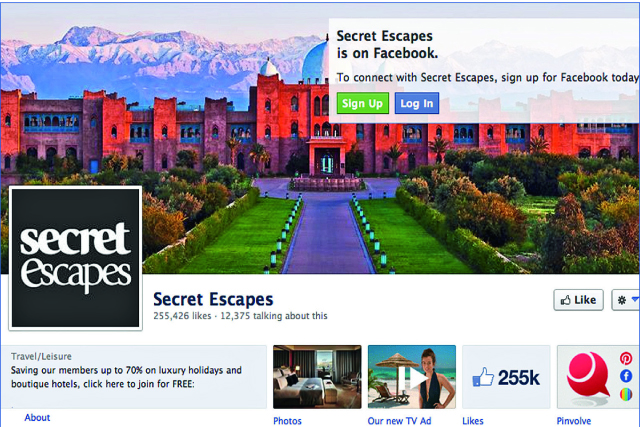 Campaign Ongoing customer acquisition and website launches in Sweden and Germany
Partners Greenlight, AdParlor (Facebook Preferred Marketing Developer)
Platform Facebook
Other media TV and Google AdWords
Link www.facebook.com/secretescapes
Background
Founded in 2010, Secret Escapes is a rapidly growing membership travel website, with more than 3.5 million users in the UK. It negotiates exclusive discounts on hand-picked luxury hotels and holidays, then shares these with members via regular e-mails and on Facebook.

The aim
Secret Escapes wanted to continue acquiring members in the UK, and to expand to Germany and Sweden.

The execution
The brand started off by running Page Post Link Ads on Facebook, driving users to its website to sign up. It was able to achieve even better results by moving its ads from the right-hand side into the News Feed – where people are the most engaged. Emotive, scenic pictures of hotels and resorts strengthened the company's image as an exclusive holiday brand. Secret Escapes has been using Facebook to acquire customers on an ongoing basis but recently started working with a Facebook Preferred Marketing Developer, AdParlor, to scale its activity.
Custom Audiences uses information on Secret Escapes' offline audience to reach that same audience on Facebook. Then Lookalike Audiences allows the brand to also find new, similar audiences there too.
Using Lookalike Audiences to reach those with similar characteristics to its existing customers increased click-through rates on Secret Escapes' ads by 134 per cent and boosted acquisition volume and search sign-ups, which rose by 105 per cent. Targeting specific audiences brought the lifetime value of acquired customers close to that of customers acquired through Google paid search.
By using these tools and working closely with AdParlor, Secret Escapes was able to ramp up its Facebook activity to match its rapid growth.
"We have been working with Facebook and AdParlor to increase our presence on mobile devices. To date, running mobile-specific campaigns has seen an 85 per cent increase in CTR with a 20 per cent decrease in CPCs compared to campaigns targeting desktop," Gareth Griffiths, the head of digital marketing at Secret Escapes, said.
These results have driven the brand to triple its spend on Facebook.
---
Steve Taylor, head of digital strategy, PHD
"Secret Escapes demonstrates how to write brilliant content for the News Feed. The images used are stunning, and never fail to grab my attention. Excellent content for promoted posts, drawing users in and setting them on the journey to website sign-up.
"The brand generates a lot of natural buzz on the platform with a higher proportion of 'people talking about this' than EastEnders.
"Sharing your luxury holiday aspirations with your friends builds identity, while letting them in on the 'secret deal' brings kudos. Secret Escapes capitalises on this by using Custom and Lookalike Audiences to find exactly the audience most likely to want to know about the brand and share their discovery with their friends on Facebook."
Campaign O2 Tracks
Partners VCCP, ZenithOptimedia, MusicQubed
Platform Facebook
Other media None during the first three days of launch
Link www.facebook.com/o2uk
Background
The telecoms provider O2 was looking for a rapid and wide-reaching ad strategy to drive awareness and downloads of a music app it launched in March.
Working alongside ZenithOptimedia, O2 selected Facebook's Mobile App Install Ads to drive downloads of the app.
O2 Tracks delivers the Top 40 chart directly to a mobile device. Following a two-month free trial for O2 customers (or two weeks for other users), it costs £1 a week. The app was launched on Apple and Android devices and is now also available on BlackBerry and Windows phones.
The Aim
Spread awareness of O2 Tracks to as many of O2's target audience as possible by leveraging the wide reach and targeting of Facebook's mobile platform.

The Execution
In the UK, there are more than 26 million active mobile users on Facebook each month, with more people accessing the social network through their mobile devices than on desktop – making Facebook's mobile platform an attractive solution. In a global first, O2 employed the innovative strategy of combining the effectiveness of a Mobile App Install Ad with the reach of a Mobile Target Block – a media buy that allows you to reach a pre-specified number of your core demographic over a three-day period.
O2's Mobile App Install Ad appeared in the News Feed and allowed users to download the app with minimal interruption to their browsing expe-rience. The Mobile Target Block ensured 100 per cent of O2's core demographic on Facebook (people aged 18-plus) saw its ad at least once in the first three days of launch.
Mobile App Install Ads also gave O2 more space (almost full screen) than standard mobile banner ads via what is arguably the most valuable real estate on the mobile web.The three-day campaign reached 20 per cent of the UK online population (more than nine million people).
---
Matt Champion, media services director, Fetch
"We were really impressed that, by exclusively using Facebook Mobile App Install Ads, we were able to catapult O2 Tracks to number six in the App Store within a few days of launch," Paul Fabretti, the head of social media at Telefónica UK, said. "This was a great way to kick off our launch campaign and exceeded all our expectations."
"Promoting the O2 Tracks app via Facebook Mobile makes sense. Mobile Target Block fits well with brands that have very well-defined target audiences and, from a planner's perspective, the approach gets a blue 'thumbs up'.
"O2, as both a media property and customer database, has access to great data, so it's appropriate to use that wherever possible.
"However, the Top 40 will have a pretty broad appeal within youth/young adults, so it should be a success even without tight targeting.
"It's a scalable product concept, though – is there an 80s pop version?"
Campaign "Get well" soup
Partners We Are Social, Vizeum, Publicasity, Magnet Harlequin
Platform Facebook
Other media Metro.co.uk, The Sun
Link www.facebook.com/HeinzSoupUK
Background
Heinz knew its brand was front of mind when consumers thought of baked beans or ketchup and wanted this to extend to Heinz Classic Soups during the winter, when people are more susceptible to getting ill. The campaign was first launched in October 2011, but success led to a second phase in early 2012, a further run later that year in November and another current burst in early 2014.

The Aim
The company wanted to build awareness and positive sentiment around Heinz Classic Soups in colder months using the simple insight that people eat soup when feeling unwell and it cheers them up.
The Execution
Fans were able to personalise the label of a can of Heinz Cream of Tomato or Cream of Chicken Soup with a get-well message for a friend feeling under the weather. Using an integrated PayPal facility, the can was delivered to their friend for £1.99 – less than the price of an average "get well soon" card.
The campaign provided strong engagement by offering something personalised and exclusive. It also showed Facebook could be used as an e-commerce platform, not just a way to stay connected to consumers.
All promotional activity including PR drove consumers to Facebook. Teaser updates ahead of launch and Facebook Ads in the News Feed were used to recruit new fans and engage the existing community. In phase two, a new flavour of soup was introduced as voted by fans and, more recently, can purchases contributed to pantomime performances for seriously ill children.
In the first two phases, the Heinz Soup Facebook page had acquired almost 75,000 new fans, while more than 136,000 users engaged with the campaign. The page increased its interactions by more than 650 per cent and saw a 4,334 per cent increase in monthly unique visitors. The tab has been viewed more than 124,000 times and 76,000 fans have interacted with the application directly, with 4,184 Heinz Soup cans mailed.
"It proved a big hit with huge talkability," Sally Meekins, the Heinz marketing executive, soups, said. "It wasn't just the offer that people were engaging with, it was the idea and what it says about the brand by bringing people closer."
---
Matthew Hook, chief strategy officer, Carat
"This case study seems particularly timely, given that as a new year wheezes and sputters to a start, Facebook seems to have turned into a norovirus RSS feed. And that's what makes this idea so appealing – it doesn't start with the brand or the platform but with a naturally occurring action and conversation in culture, and then works from there.
"Because of this, it immediately unlocks the power of a real-world interaction with the product, and with a transaction, because the idea itself is too big to be trapped in a single platform. It's also good to see that this was a repeat initiative from the year before – I hope Heinz reiterates next year, and the year after, and that the idea becomes as famous as it deserves."