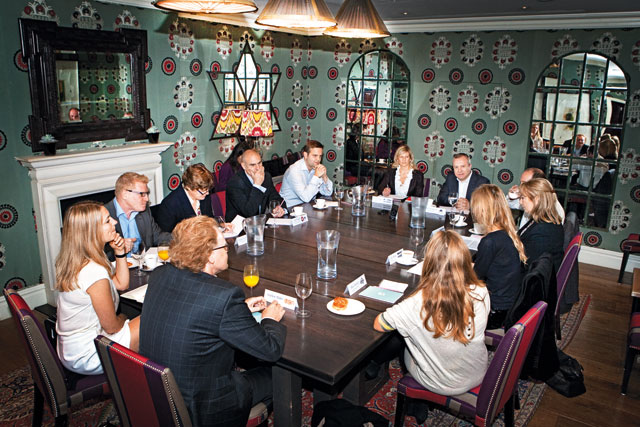 It could be argued that, in the past, the integrated debate was characterised by a degree of navel-gazing. Confined to dusty academic tomes and conference presentations, it had little bearing on the real world of communications.
However, in the past few years, the growing importance of digital media has added new urgency and pragmatism to the need to understand what integration is and how it is to be delivered. Crucially, it has become less of an amorphous term and has evolved into a method of knitting together communications output.
This was the picture that emerged at Campaign and Marketing's joint roundtable on integration, which brought together clients and agencies to expound on the issue.

Digital is the catalyst behind this change, Stephen Maher, the chief executive of MBA, said: "There is a debate about best-in-class versus a more holistic approach. What has changed is that digital means it all has to be integrated, and you need an understanding of the digitally connected world."
The convergence of consumer media choices is forcing clients to reshape how they do business and what they want from their agencies. In the past year, Virgin Media has radically reshaped its way of working and its agency relationships, moving away from using a single integrated agency. The relationship was not working because of Virgin Media's siloed set-up, Jeff Dodds, its executive director of brand and marketing communications, said: "We were anything but integrated as a client, and we had to converge into a single place where we had one contact talking to one contact. When we had achieved that, we were free to go and talk to specialist disciplines. We have moved from being a disparate client with an integrated agency model to being an integrated client with a fragmented agency model."
Virgin Media brought three formerly separate departments - commercial strategy, brand and marketing, and customer loyalty - together. The reorganisation was completed in December 2011 and has led to greater internal effectiveness and efficiency. Dodds added: "They need to work together and are now in a single place. Our framework in going to market has now converged in a single plan."


Virgin Media is a challenger brand that is outspent by its rivals, Sky and BT. To have a chance against them, it has to out-think them, be creative and fast to market. With its old set-up, it wasn't any of these things, Dodds said.
More clients are getting serious about achieving integration, rather than simply aspiring to it, Neil Henderson, the managing director of St Luke's, said: "Previously, this might have been delegated to the agency because clients were not integrated themselves. They'd hope agencies would all speak to each other and end up head in hands when they didn't."
Such conflicts are becoming less intense as agencies hone their skills at working together, he said.
Alice Huntley, the chief strategy officer at Rainey Kelly Campbell Roalfe/Y&R, said that there is a wider concept of what integration means: "There is an increased role for the lead agency to help the client come up with a clear vision of what is at the heart of the brand integrity. We like to talk about things that matter, not things that match."
This is an issue for chief executives, as the definition of integrated now covers all parts of the business, not just the marketing department. However, research by the University of Northampton into the stature of marketing has revealed a problem in implementing this broader definition.
Dr Kathleen Mortimer, an associate professor at the Northampton Business School, said that marketers wanted integration but were struggling to implement it due to declining influence over other parts of the organisation: "It sounds great on paper, but there are so many touchpoints for the brand that it is hard to do. HR, manufacturing, operations - the whole organisation has to be in there for it to work."
With more channels to integrate, the question of which channels are delivering has assumed greater importance. Clients want to disintermediate the results, Chris Sloane, a partner at Ohal, revealed: "By knowing which levers work hardest, you can improve it going forward, but it's hard to do. From a measurement point of view, it would probably be great if there wasn't integration, but integrated campaigns tend to work harder."
Clients have to be prepared to take a more central role in directing integration, Antony Miller, the marketing director of Royal Mail MarketReach, said: "It's not about handing the keys over to the agency and asking them to solve integration. Those who don't get more involved will lag. But things are changing. 'Lead agency' is a dinosaur term. A lead agency for one task is the one who gets it at that time, and may not be the same as the one for another. You can be lead agency for a quarter."
Not all clients have the sort of marketing heritage of a Virgin or a Mars that would allow them to do without a guiding hand, Mortimer said: "Sometimes they need help, and that's where a lead agency comes in. It can help marketers sell in an idea to the board, rather than having lots of different agencies to deal with."
Even in the supposedly more streamlined structures of modern e-businesses, there are still silos for agencies to negotiate. This is particularly the case in "digital utility" areas of clients' businesses, where a service innovation is overseen by another department. This is a grey area where innovation has the potential to deliver value for the brand, but where it is unclear whose territory it is. Huntley said: "Where does something like a Nike+ sit? Digital businesses keep the digital delivery very separate because it's more like product and service with marketing separate. They are already paying a lot of money for delivery, so you can't get through. You need to try to bridge that gap."
Dodds said it comes back to funding: "It's easy to lay down a plan at the beginning of the year, but where does digital innovation fit? It requires somebody to invest creatively and take the risk."
Maher said it is incumbent on agencies to offer this kind of thinking, even if they are not paid directly for the output: "You have to deliver ROI for clients, and if you have some sort of performance-related pay structure in place, then you will benefit. Sometimes, you offer an idea and it's not obvious who will champion or fund it, and it doesn't happen. However, you've got to keep offering the ideas."
An idea that received widespread acknowledgment around the table was that internal communications is now an important part of the integrated pitch. Annouchka Behrmann, a regional director of Hill & Knowlton Strategies, said internal customers had to be part of the communications plan: "It's about interconnectedness. You can't have separate messages for internal and external audiences. That internal public can be incredibly powerful for brands if you can harness them."
When it comes to producing organisational ideas, the primary delivery is often internal. For its sponsorship of Britain's Got Talent, Virgin Media spent more time working out how to unlock the value around employees and customers than it did looking at the media value, Dodds said: "We are an entertainment brand and it's an entertainment property. That's what our people crave and why they work for us. Employees are front and centre."
Henderson agreed that internal work is now more upfront: "Don't think of internal communications afterwards. We talk to every part of a business to get their take on it so that, when it is created, everybody has some stake in it. That makes it so much easier to sell in."


Ideas created through interaction with the internal audience can then be workshopped to create innovations that improve the business. For Littlewoods, St Luke's came up with the agenda-setting idea of "bringing every family the exciting feeling of new now". This helped unlock a whole host of innovations that the marketing department could not have made happen alone, Henderson said, with a substantial increase in revenue.
You can touch people right across the business with a timely communication, Dodds said: "The biggest impact on employees was when we sent an e-mail announcing that Mo Farah had agreed to be our brand ambassador. We told our employees first and people walked an inch taller. It was transformational."
Such an approach allows brands to make the platitude that their people are their best asset a reality, Henderson said: "All brands are service brands now. You have to make a personal interaction. You are trying to create a relationship with customers. That's the differentiation."
But while all agreed that the future of integration is exciting, there is no escape from the old turf wars. Who will deliver and implement the big ideas of the future?

Maher said: "The debate is about how much the agency delivers. Most agencies are more integrated than they were five years ago because digital is baked in. You cannot survive otherwise. In five or ten years, we will see even more convergence."
Size is a factor in deciding whether to go for an integrated agency, he added: "It's difficult to put a £100 million budget in one place, but with £5-10 million, it's easier."
Dodds said most clients don't care where ideas come from, but that agencies definitely do: "There is a sense of hierarchy in the agency arena. It causes amazing angst among agencies when somebody else comes up with the idea and wants to run with it."
Behrmann said that this was because on the occasion when a big idea didn't come from the ad agency, they still took the lead on it, something that disincentivises other agencies.
Money is an issue, and remuneration has to be spelt out clearly and fairly. However, Dodds said that he doesn't want to feel as if he is on the clock whenever he has a business discussion: "There is a small group of people who are partners in our business and whose opinion I value. I don't want them thinking: 'How will I get paid for this?'"
With procurement increasingly hovering in the wings, agencies have to speak their language to be in the game. Miller said there needs to be a more detailed focus on results: "It is the priority of things and the challenge in this climate is to engineer results. Clients aren't stupid; they understand about magic and logic but, to realise more money, you need to be more explicit."
Dodds said that while procurement favours the most efficient route to market, it was no longer about quantity over quality. However, the chief marketing officer of the future is likely to be closer to a chief operating officer, demanding different skillsets: "Rather than a brand guy who works his way up, it's somebody into data, statistics, econometrics and running the commercial strategy. You don't get to have the nice soft brand conversations unless you are commercially aware. Five or ten years ago, you didn't have to worry about demand generation."
If Dodds is correct, then there are further twists and turns for the integration debate. It is clear that integration is more tangible and important today than it has ever been, and its effect can be felt throughout an organisation, not just in the marketing department.



THE PANEL
Alice Huntley chief strategy officer, Rainey Kelly Campbell Roalfe/Y&R
Stephen Maher chief executive, MBA
Annouchka Behrmann regional director, Hill & Knowlton Strategies
Antony Miller marketing director, Royal Mail MarketReach
Dr Kathleen Mortimer associate professor, Northampton Business School
Jeff Dodds executive director of brand and marketing communications, Virgin Media
Chris Sloane partner, Ohal
Suzanne Bidlake consultant editor, Campaign and Marketing
Neil Henderson managing director, St Luke's
Stuart Derrick writer, Campaign
Noelle McElhatton editor, Marketing
Claire Beale editor, Campaign.