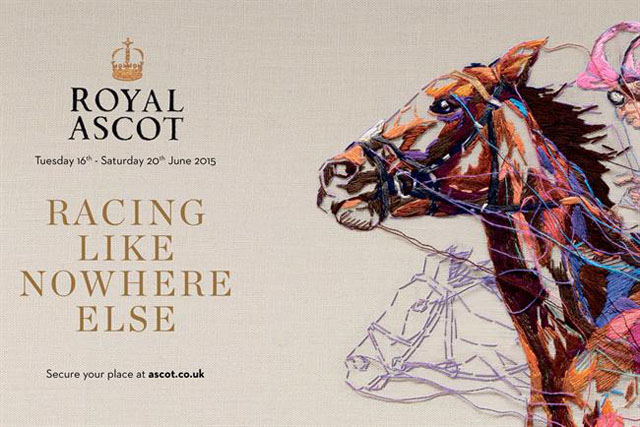 The campaign, "Like Nowhere Else", has been created by Antidote, focusing on the four areas of Royal Ascot: racing, pageantry, style and fine dining. Lauren DiCioccio has produced a tapestry that draws on these areas.
The campaign will launch on 20 February and run across TV, radio, press, digital and social media. The embroidery will also be shown in full in select locations.
Print ads feature pull-out sections of DiCioccio's work such as an image of horse racing, and carry the tagline: "Racing like nowhere else."
The TV spot is to launch in the coming weeks and will tell the stories within the embroidery to show off the exciting nature of a day at the event. This will be supported by a website where people can explore the work in more detail and learn about the stories behind it.
Toby Derham and Egle de Vilutyte created the campaign, with creative direction from Teddy Keen. AMS Media Group was the media agency.
Juliet Slot, the commercial director at Royal Ascot, said: "The concept of creating a tapestry felt distinctly elegant, original and unique. Lauren has crafted the most beautiful tapestry, which has brilliantly achieved this aspiration.
"Antidote have developed a fully integrated campaign, which will allow us to take our customers on a journey of engagement through a variety of rich media, video and other visual references.
"It is the first truly 360º campaign we have developed for The Royal Meeting; an event like nowhere else."