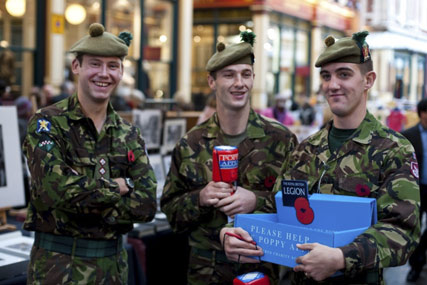 The appointed agency will be tasked with handling the Royal British Legion's donor base and managing its donations, which total in excess of 25,000 a week.
Whoever wins the pitch will also be responsible for overseeing the charity's website. The review is being led by the Royal British Legion's procurement department.
The charity currently works with Tangible on its direct marketing account and the review does not affect it. The agency retained the account after a review in 2009. It was the second time Tangible had defended the business - it first won the account in 1998, and retained it in a pitch in 2003.
Tangible was behind last year's annual poppy appeal, which asked supporters to return a "little remembrance cross" to remember someone who died in service, which would be planted in a special plot at Westminster Abbey. More than 60,000 crosses were planted and more than £1 million was raised, according to the agency.
The Gate, which is the incumbent on the Royal British Legion's above-the-line account, is unaffected.
Last year, the Royal British Legion made history with the first silent song to enter the charts. The single, 2 Minute Silence, reached number 20 on Remembrance Sunday.