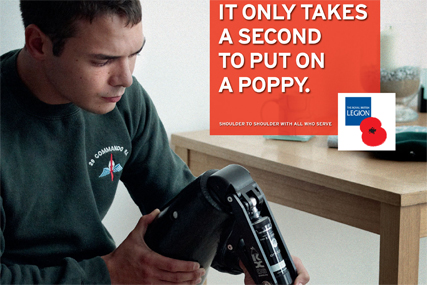 Created by The Gate, the campaign aims to emphasise the need to help the Afghan generation of the armed forces and their families.
Posters feature real case studies of armed services personnel helped by the charity including an amputee and a widow.
The ad of the amputee shows the affected soldier taking time to put on his prosthetic leg, accompanied by the strapline "It only takes a second to put on a poppy".
Another ad shows a widow laying flowers on her husband's grave, with the strapline "It's not as painful to put on a poppy".
Russell Thompson, director of fundraising and special Events at The Royal British Legion, said: "The Gate have produced a commercial that makes it clear that The Royal British Legion is the only charity that looks after all serving and ex servicemen for all of their lives, in a creative and compelling film."
The campaign runs until 11 November and will roll out posters nationwide. It will be supported by online and local radio activity as well as a 30-second TV spot by RSA.
As well as creating the work, The Gate planned and bought the media for the campaign.
In addition, The Royal British Legion is to launch a two minute silent music video to raise money for the Poppy Appeal and commemorate Remembrance Sunday on 14 November.
The video, called "Two Minute Silence", is produced by 2AM and directed by Matthew Donaldson, and features ex service men who are helped by the British Legion alongside music stars Thom Yorke, Plan B and Mark Ronson.
It aims to make it to the UK's number one chart spot and already has a strong Facebook fan base with two million followers.
The 10 second teaser has also generated 45,293 hits on YouTube.
The video is available to buy on iTunes on 7 November.