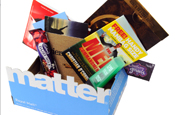 Created by Matter Media, the mail pack will be delivered on Saturday morning to more than 30,000 UK consumers who have already signed up on the 'Matter' box website.

The box will contain a DVD cleaning cloth provided by LoveFilm, a DVD of a roaring fireplace created by Diageo, an O2 sim card pack, a shower gel by Original Source, a Cadbury cranberry and granola chocolate bar, and a book sample by Harper Collins.

Each brand pays for its place in the 'Matter' box, and the Royal Mail, which developed the channel with Matter Media, has confirmed that it is already in talks with a number of advertisers keen to be involved in subsequent boxes.

Earlier this year, a trial Matter box was sent to around 1,000 ABC1 males, containing products from brands including Nintendo, Nissan and Sony Bravia.

Through pure word of mouth from the recipients, the trial provoked 20,000 people to sign up for the scheme in the first two weeks following its launch.

Rory Sutherland, vice chairman of Ogilvy Group UK, called the initiative "one of the biggest ideas in DM for years."

Antony Miller, head of media business development at Royal Mail, said: "Advertisers are no longer able to rely only on consumers seeing or hearing their messages to boost sales - they now have to really engage people to create standout.

"Matter harnesses the marketing power of direct mail - communicating one-to-one with targeted recipients - and allows brands to physically place their products into people's hands."