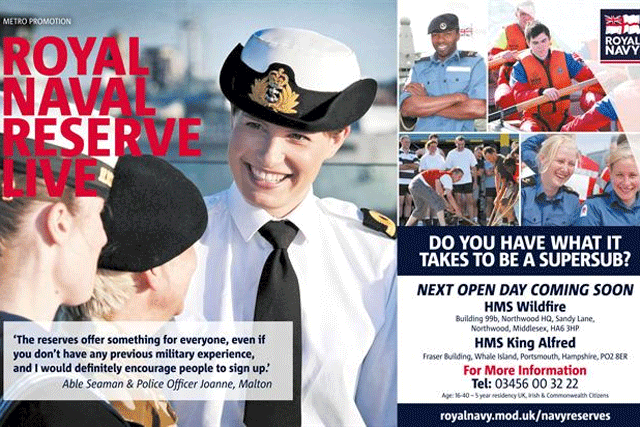 The campaign compares the reserves to the role of substitutes in sport as "specialists called upon when the manager needs them most".
The 15 football clubs involved include Fulham, Cardiff, Rangers and Sunderland and there is one for each Royal Naval Reserve Unit in the UK.
Royal Naval Reserve messaging will be displayed during real substitutions at the home football games through digital LEDs around the pitch, on the big screen and over the tannoy.
The campaign, which was devised by MEC Access, will also feature on stadium concourse TVs and in match day programmes. Royal Naval Reserve will also give away match tickets in competitions.
There will be monthly advertorial features in Metro's sports section profiling substitutes from sports teams and the Royal Navy Reserves, as well as fortnightly recruitment half-page ads in the newspaper.
Short-from content on what it is like to be in the Royal Naval Reserve will be shared on the Royal Navy's social media channels.
Lee Thorne, a lieutenant commander and the marketing manager for the Royal Navy, said: "MEC Access has put together a fantastic campaign to raise awareness of the key role reservists play in the Royal Navy, in a really accessible way to drive our recruitment targets.
"The game-changing substitutes analogy they've developed is a fantastic way for consumers to easily understand this role, and the partnerships they've secured are a brilliant platform for that message."