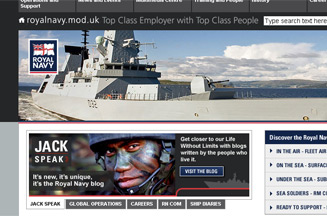 The Royal Navy has invited six agencies to pitch for the account, which is being handled by the COI.

The successful agency will be tasked with implementing a strategy that places digital at the heart of the Royal Navy communications plan, creating a new look and feel for the Royal Navy's web estate.

The agency will also work alongside the Central Office of Information's (COI) Interactive Services team to execute tactical digital activity for Royal Navy recruitment marketing. This includes using digital channels such as mobile, social media and search.

COI Interactive Services said: 'Digital channels are a key component of the Navy's communications strategy. In the next two years the Navy will be relaunching its corporate site and is committed to exploring its use of the semantic web, email, mobile and various social media channels that are key to their audiences.'

The Royal Navy launched a new campaign to help attract engineers to officer posts using a new interactive application available via the iPhone and as a Facebook widget last month. The activity was handled by the agencies, Marvellous and Glue.

In May it handed AKQA Mobile its mobile recruitment account following a pitch. The agency was tasked with developing a mobile application to support the Royal Navy's recruitment drive through mobile platforms and marketing initiatives.