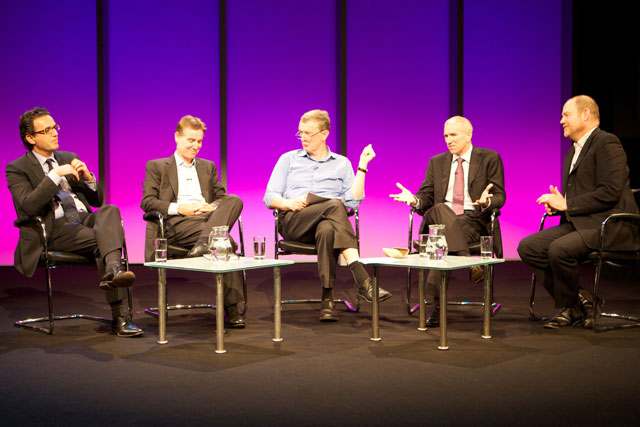 The TV industry takes the Royal Television Society's Cambridge Convention very seriously. Perhaps because its biggest players turn up. After all, the ITV chief executive, Adam Crozier, the BBC director-general, Mark Thompson, the Channel 4 chief executive, David Abraham, the BSkyB chief operating officer, Mike Darcey, and the Culture Secretary, Jeremy Hunt, are not often seen having a drink alongside TV production staff and journalists in a university bar.
Amid the formal dinners and off-the-record chats, last week's event provided a number of interesting sessions that touched on broad themes while also throwing up a couple of key announcements that could keep delegates busy until it is time to do it all again in 2013.
1. The Department for Culture, Media and Sport spent the days leading up to Hunt's speech giving previews to national newspapers. The actual speech was a distilled version of what was reported but contained lots of interesting points, not least Hunt's suggestion that decisions on mergers such as the News Corporation bid for BSkyB could move to a non-political body.
2. Hunt is now prepared to make jokes at his own expense on the subject of local TV. He also wants to engage the industry in his quest for a new regulatory framework. As the review of TV advertising has shown, the TV industry errs on the side of caution on the subject of reform. This was demonstrated when, later in the conference, delegates voted unanimously against the need for a new Communications Act.
3. The second day opened with an entertaining session chaired by the actor and comedian David Mitchell on "The Opportunities of Converged TV". Despite Mitchell's scepticism (he was surprised to see the surfwear brand Billabong had a connected TV app), the session struck an upbeat note. RTL's chief executive, Gerhard Zeiler, trumpeted the role of broadcasters and channel brands, while YouView, the internet-connected TV service, said that it is testing its consumer boxes ahead of a launch "early" next year.
4. Google continued its charm offensive. Last month, in a conciliatory speech, its executive chairman, Eric Schmidt, told an audience of TV executives in Edinburgh that the "internet is fundamental to the future of TV". In a session on data at Cambridge, Matt Brittin, Google's UK and Ireland managing director, mimicked his boss. Brittin said the two billion people connected to the internet were a "massive opportunity" for the UK TV industry.
5. Abraham confirmed Channel 4's plans to offer demographically targeted ads and new ad formats by the end of this year (as reported in Campaign last week). A range of new ad formats will give advertisers the chance to add microsites and overlays to pre-roll ads and target campaigns to specific demographic groups.
6. Fru Hazlitt, the managing director of commercial and online at ITV, said it was "appalling" that the ad industry has not been more progressive in using the 30-second spot. She cited Argos and Ann Summers as brands that have used traditional TV spots on ITV in new ways and called for the industry to do more.
7. Sir Martin Sorrell, the chief executive of WPP, dismissed worries that the ad market is going to drop off at the end of the year. He said WPP has "seen no sign of people cutting budgets" in 2011. That said, he added a note of caution: "Given what advertisers read in newspapers and see on the screen, they are going to be more nervous."
Sorrell also said the newspaper industry is doomed unless it can find a way of making money through paid-for content, is able to consolidate further and finds some form of subsidy. There was little consolation for the free-to-air TV industry, which Sorrell said is "as narrowly backed as newspapers are". He added that he has "fundamental doubts about the ability to monetise social media".
8. In the final session, Crozier gave measured support for Red Or Black?, saying the high-budget game show's launch audience beat that of The X Factor and Britain's Got Talent. "Of course there are some things you would do differently, but that's all perfectly doable," Crozier insisted.
WHAT IT MEANS FOR ...
ADVERTISERS
- Cambridge's main message for commercial partners is that TV broadcasters want to keep your money. They are aware of the threat of the internet and convergence but believe in the power of linear TV and broadcast brands. They are even prepared to fight each other for the data and analytic tools they think will show their worth.
- ITV did away with its big sales beasts in January, and the Argos and Ann Summers deals suggest the collaborative approach is starting to pay off. Hazlitt wants advertisers and agencies to think differently about the 30-second spot. "If they can, then, hey presto, how engaged are you with the consumer?" she said.
- Channel 4 maintains a spot on the channel is worth more than one from its competitors, and is planning to prove it in new ways. Abraham was defiant about the loss of Big Brother and Friends, and promises to bring "strong sticky genres". He said: "Just because we don't rely on one franchise doesn't make us any weaker."
- References to the decline of the Big Brother audience were the only real mention of Channel 5, and Sky's main contributions were on the subjects of platforms and data. Darcey insists other broadcasters could get data from the Sky platform but questioned exactly what information Abraham wants.
- Marketers and executives from agencies were notable by their absence. In fact, Hazlitt was one of the few to discuss the role of advertising. If the broadcasters are serious about working collaboratively with their commercial partners, opening up these discussions to them will be a good start.