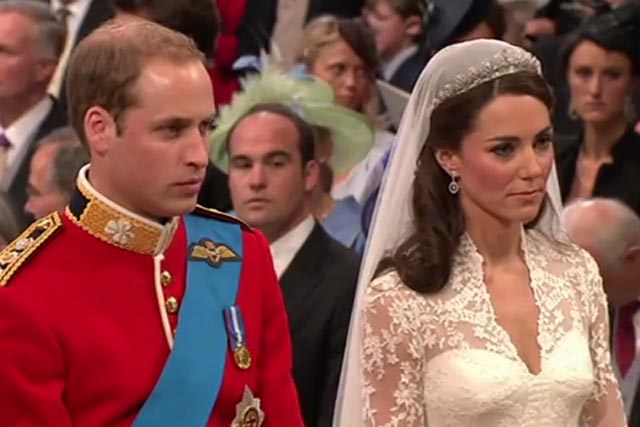 Live footage of the Royal Wedding across BBC, ITV and BSkyB TV channels provided the biggest UK TV audience since the funeral of William's mother, which was watched by 32.10 million viewers across the BBC and ITV on 6 September 1997.
Friday morning's audience was two million short of Princess Diana's marriage to Prince Charles, which was watched by 28.40 million viewers on BBC1 and ITV on 29 July 1981.
The BBC's coverage of the ceremony, between 11am and 12.15pm on BBC One, BBC One HD and BBC News Channel, was watched by an average audience of 19.2 million viewers, a 68.9% share.
The majority of the BBC's viewers were on BBC One and BBC One HD, which had a combined audience of 18.70 million, a 67.2% share of the TV-watching audience.

According to figures from the BBC across BBC One, BBC One HD, the BBC News Channel and BBC iPlayer, the corporation's coverage had a peak audience of 20 million at the end of the service in Westminster Abbey.

On ITV1, 'The Royal Wedding: Ceremony' had an average audience of 5.83 million between 11am and 12.15pm, a 20.9% share of the audience, Sky News had an average audience of 661,000, and Sky Living had an average audience of 75,000.

Some widely published forecasts before the event predicted that up to two billion people in 180 countries could watch the wedding on TV or via the internet. Any global figure has yet to be tallied, but more considered analysis suggests the actual figure was below the initial guesstimate.
Meanwhile, according to figures from Facebook, more than one million Facebook status updates in the UK mentioned the Royal Wedding over the 24 hours between 2pm on Thursday 28 April, and 2pm on Friday 29 April.
During the morning alone, 684,399 Facebook status updates in the UK referenced the wedding in the four hours between 9am and 1pm, equating to an average of 47 mentions every second.
The most mentioned wedding-related topic was the bride Kate Middleton, with 131,385 mentions, followed by Prince William with 104,747 mentions, and then William's brother and best man Prince Harry, with 64,107 mentions.
The Evening Standard distributed 420,000 copies on Friday, according to internal figures, with its first bank holiday issue in 30 years.
Andrew Mullins, managing director, said the paper went like "hot cakes" and that the "pick-up" rate was faster than on a normal working day.
New distribution points were set up on the roads around Westminster, and particular hot spots were in the St James Park, Westminster and Victoria area.