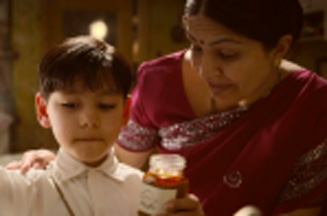 The commercial is Patak's first TV campaign in five years and the first ever ad directed by Cash.
The TV advertising campaign created by JWT London, with a media spend of £3.5m, breaks in early October and is designed to reinforce the brand's strong family heritage with the emotive strapline: 'Patak's, Why Britain Loves Curry.'
The relaunch includes new packaging, new and improved recipes and new products.
The ads reflect the Pathak's family history, and features current company chairman and CEO Kirit Pathak as a young child.
Kirit is the son of LG Pathak who came to the UK with his family in 1957 and started the Patak's business from a small shop in Drummond St, London selling Indian ingredients and specialties.
In the commercial Kirit is shown helping his mother and father make and deliver curry pastes and sauces to the local community, with the ads closing on a visual of the real Kirit Pathak today.
In addition to the TV adverts, the marketing activity includes a new website, PR and a loyalty programme. There will also be a million-pound investment in shopper-focused marketing activity such as sampling, shelf barkers and added- value promotions.
The brand's packaging will also be refreshed with a vibrant, strong, authentic new design featuring easy to use back-of-pack information, to help consumers recreate a restaurant experience at home.
Product firsts include an 'oven bake' Biryani Sauce range, a Butter Chicken sauce recipe to appear in the ambient aisle, and restaurant-quality side dishes, Easy Saag Aloo, Easy Mushroom Bhaji, Easy Bombay Potato and Easy single-use paste sachets.
In addition, Patak's pastes are now available with reduced salt and fat levels, in accordance with forthcoming GDA guidelines.
Tracy Hughes, AB World Foods consumer marketing & category controller said, 'By providing quality, authentic Indian dishes which are found in many Indian restaurants, Patak's is enabling consumers to recreate this experience at home - to equally high standards but at a much lower cost.'