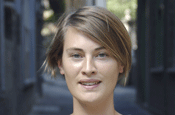 Her main focus will be to build and manage the director roster for the UK advertising market.

Houchin joins from Home Corp, where she was joint executive producer with Homeowner Emily Bliss.

Pulse's current directing roster includes Justin Kerrigan, Jake Wynne, Berlin & McCool, Steve Dell, emma, thirtytwo, Marco Espirito Santo, D.A.R.Y.L., Special Problems, Colin O'Toole, Dave Tucker, Giorgio Testi and JT.

The company has recently worked on ads for Nissan, BA, Nike, Boots, HSBC, the BBC and Alfa Romeo and worked with artists including Stereophonics, Babyshambles, The Kooks, Josh Wink and The Wombats.

Houchin said: "Pulse feels fresh in attitude and extremely vibrant. I'm confident about upping their profile with the London agencies - creatively I think the directors have a lot to offer and we are focused on growing the roster with leading talent."

Thomas Benksi, the managing director of Pulse, said: "We are delighted that Roz joins at such an exciting time for the company and its roster. Roz brings with her a wealth of experience and contacts that will help position each director, as well as having the ability to apply lateral thinking to cater for the ever changing advertising market."