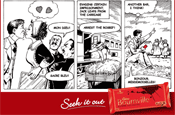 The ads will target males over 45 years old and carry the tagline: "100 years of plain good adventures with Bournville."

Ads will be placed in The Mail on Sunday, The Daily Telegraph, The Sunday Telegraph and the Daily Mirror over seven weeks, culminating on Father's Day on 15 June.

Rob Wilson, RPM's strategy director, said: "The iconic style comics of the 20th century have proven to bring back strong memories and feelings of nostalgia for nearly all men from within this age bracket."