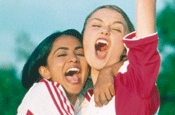 Currently based in London, Chadha will assess script suitability on a "project-by-project" basis.
The move marks her first foray into UK advertising, following a spate of highly acclaimed films exploring the issues of identity among young British Asians.

They include Bride and Prejudice, a 2004 adaptation of Jane Austen's novel, and Bhaji on the Beach, about a group of Asian women on a day trip to Blackpool.
Her latest film, Angus, Thongs and Perfect Snogging, is set for release this summer.

Kai-Lu Hsiung, the managing director of RSA, said: "We are fortunate to have the unique talent of Gurinder join us here at RSA.

"Obviously, her feature pedigree sits well with the RSA roster.
"Her storytelling skills are combined with a beautiful attention to cast and character; and she discovered young stars such as Keira Knightly and Parminder Nagra."

Separately, RSA has also signed Duncan Jones for commercials representation. Jones, who formerly worked at Beattie McGuinness Bungay and is the son of David Bowie, has directed a number of ads, including a three-and-a-half-minute spot for McCain, marking 25 years of its Oven Chips which starred the Blue Peter presenter Valerie Singleton.