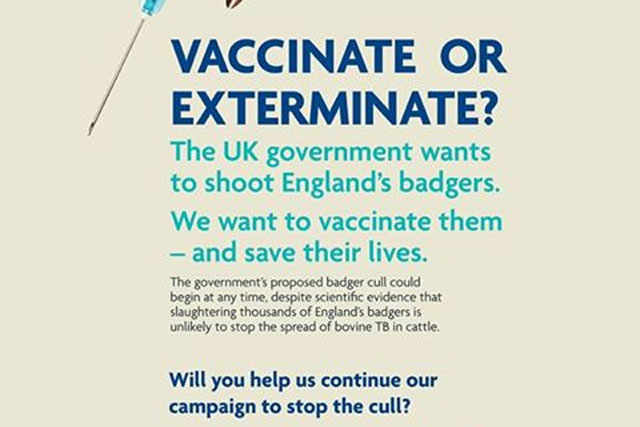 The ad, created by Open Fundraising, showed a picture of a syringe and a bullet alongside each other, with the words, "Vaccinate or exterminate?"
The ad's text stated: "The UK Government wants to shoot England's badgers. We want to vaccinate theme – and save their lives."
It urged people to donate £3 to "help save England's badgers" and to sign a petition. It claimed "scientific evidence" showed "slaughtering thousands of England's badgers is unlikely to stop the spread of bovine TB in cattle."
The ad received complaints from a total of 119 people, including Simon Hart MP, Antoinette Sanbach AM, the shadow minister for rural affairs in Wales, and the Farmers' Union of Wales.
Four complaint areas were identified, but it was the claim that the use of the word "exterminate" was misleading that was upheld by the Advertising Standards Authority (ASA).
Some believed it was inaccurate and alarmist because the Government's proposed cull was a trial to be conducted in only two areas of the country.
The RSPCA said it used the word "exterminate" carefully and deliberately, because it was possible that more than 70% of the badgers in the pilot areas would be killed, with a "real risk" that badger populations in some areas of the cull would be wiped out completely.
However, the ASA ruled that the ad was likely to mislead as there was uncertainty around the actual number of badgers that would be culled.