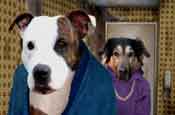 A series of blackly humorous ads featuring sets of suffering talking dogs is Abbott Mead Vickers' approach to its latest RSPCA campaign.
The work attempts to highlight the upcoming changes to the Animal Welfare Act, which means pet owners will be legally obliged to provide their animals with 5 basic rights.
It also hopes to show that most animal cruelty comes not from abuse, but from owners not doing enough for their pets.
To give the ad a darkly contemporary feel the agency worked in conjunction with 12 foot 6, the creators of the website, Dog Judo.
At www.dogjudo.co.uk/ two dogs, Roy and Rexley, post monthly blogs and video clips of their lives. They also love judo and usually end up fighting.
In 'Omeless' two dogs, one in a tracksuit and gold chain and the other in a scruffy vest and gown, stand in a dilapidated room. The first dog makes sarcastic comments about his pal's living conditions. The other replies that his owner doesn't have time to maintain the flat, as "the telly doesn't watch itself".
The voice over says: "Pets are more like humans than you think."
Project name: RSPCA Responsible Pet Ownership
Client: Justine Pannett - Campaign Project Manager
David Bowles - Head of External Affairs
Brief to promote the changes to the Animal welfare Act
Creative agency: AMV BBDO
Copywriter: Bernard Hunter
Art director: Mike Bond
Planner: Tom Johnstone
Media agency: PHD Rocket
Media planner: Mark Swansborough, Sarah Hollands
Media spend
Production company: 12 foot 6
Director: 12 foot 6
Editor:
Post-production: digilab
Audio post-production: marmalade
Exposure National TV