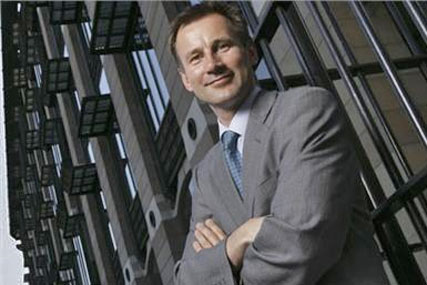 Speaking at the RTS International Television Festival, Hunt acknowledged he has instructed Ofcom to look into how local broadcasters can be repaid through the EPG to "recognise the public value" in local content.
He said: "I will begin the process of redefining public service broadcasting for the digital age by asking Ofcom to look at how we can ensure that enough emphasis is given to the delivery of local content."
However, when questioned about whether ITV, Channel 4 and Channel Five will lose their positioning if they do not deliver the content, as has been suggested, the culture secretary replied with an emphatic "No they will not".
Hunt used his keynote speech at the conference to highlight how centralised the media industry is, noting that three fifths of programming by PSB services is produced in London. He also formalised his plans to enable local TV to develop in the UK.
The culture secretary also dismissed suggestions that interim findings published yesterday about the steering group tasked with investigating the commercial viability for local TV had been disappointing.
The group, led by Nicolas Shott, an investment banker, had warned that "Local television in sparsely populated areas is unlikely to be commercially viable on DTT...even in densely populated urban areas... the economics of a TV business funded mainly by advertising will still be challenging".
Instead of relying on linear TV advertising, Shott suggested that, in the longer term, IPTV might be the favoured option.
Today, Hunt said: "What I asked Nicolas Shott to do was to explain what needed to be done. I thought his findings were very helpful. They report what we need to work on and what needs to change to make local TV viable."
Read Jeremy Hunt's full speech at RTS International TV Festival