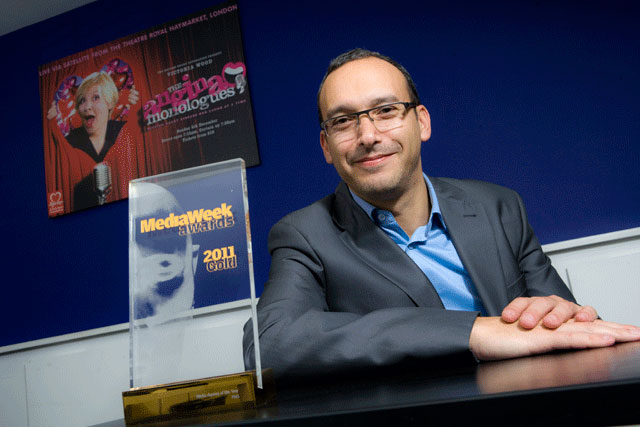 The offspring of the chief executive appeared at the tail end of PHD's video presentation for the 2011 Media Week Awards. The result? Resounding success, even causing one judge to burst into unexpected tears.
Meeting Rubins in the same meeting room where the Media Week Awards judges scored the Omnicom agency as 2011 Agency of the Year, Media Week feels comfortable enough to ask a bold question: was this just a cynical ploy to win votes?
Rubins proffers a quick anecdote to rebut the accusation: "If we'd have included all the outtakes, you would have seen my son saying 'vote for Daddy, as he must be clever, as he has a big forehead'."
That's probably about the worst slight you're going to get about Rubins, a self-deprecating QPR fan, who was worried he was going to be photographed with a couple of days' growth of beard at this year's awards do at the Grosvenor House Hotel.
So worried, that when we had to shift the photo shoot for this profile, Media Week was sent an email to tell us that he'd been lax with the razor that morning, and asking for advice.
A rather unhelpful "walk to Boots if you're that bothered", was all this organ could supply.
Awards success
PHD eventually walked off with no less than six Media Week Awards including: Agency of the Year; Grand Prix; Agency Media Idea Large; Agency Media Idea Medium; Agency Media Idea Small, and Research Insight.
So more than 50 judges from Rubin's peer group (media agency, media owner and client) scored PHD as the most effective agency of 2011, at the top of a shortlist that included fellow Omnicom agency Manning Gottlieb OMD, WPP agencies MEC and MediaCom, and the Aegis agency, Vizeum.
Was Rubins shocked? If you bumped into him on the night or were party to the number of times he tried to get the result prior to the awards ceremony, which is not uncommon, you could say yes.
He explains: "I was shocked because there was a fantastically rigorous process and, from being a judge this year and last year, I know that the quality of the work is high, and because I know that, it's not easy for judges to necessarily award lots of accolades to the same agency, so it certainly wasn't what we were expecting at all."
Rubins adds: "Our focus has always been about being confident, being brave and being challenging with our clients and with ourselves, and I think that resonated with the judges, particularly this year, because of the uncertainty and difficult times we are going through as a business."
In an industry that has taken a battering for the last few years from the economic downturn, the new mantra in media seems to be client retention and not bringing in new business at any price, and to be honest, the criteria of the Media Week Awards reflects this, with only 20% of the Agency of the Year Category reflecting this.
Not that PHD didn't pick up billings during the June to June judging period – it did, including the £10m account for finance brand Wonga.com, £7m for electronics company Dyson, and £7m for relationships website eHarmony.
Although not in the judging period, this week PHD's UK office was awarded an extra £10m of Sony Ericsson billings as part of a £125m media land grab by its global network.
Client retention
Rubins says that although his new business wins have been important in recent times, the agency starts every year with an examination of how it can keep 100% client retention.
He says: "The last three years, our focus has been on client retention, and we've had a record three years at it. If, along the way, you can demonstrate to new clients that you can bring something new to the party, then you're going to attract new business."
Rubins insists: "Definitely [PHD's] year starts with how we are going to retain 100% of our business."
He has seen the shift over the past few years away from the bloodthirst for multimillion-pound account wins, to a more organic growth potential from his clients, which include Sainsbury's, Cadbury and Kraft.
"Our business model is changing, and I think most media agencies would say the same thing. Attracting huge multi-million pound new business wins is not necessarily the lifeblood of media agencies. [It's important to] make sure that we have solid relationships that are consistent and that we start developing our portfolio of products and our offering grows."
Rubins indicates that it is this freedom of being able to focus on core clients and not having to relentlessly chase new business has given a freedom to PHD that has allowed the agency to push its own boundaries.
"I would say we started three or four years ago and winning Cadbury, and subsequently Kraft, has helped us because we have been now producing outstanding work for three or four years, and every year the work has got better and better and it helps when you have a reel of work to show clients, because hopefully what we're doing is inspiring them that there'' a better way of doing things.
"Rubins puts this down to attracting talent to the agency, and not necessarily experienced media executive talent.
He says: "The first thing I'd mention is that we've got a lot of talent [at PHD], which we've worked hard at developing and we've got a lot of talent we've attracted from other businesses and that's where I do think that we perhaps differentiate ourselves from some of our competitors, in that we're not just interested in attracting talent from other media agencies.
"We've been quite broad at attracting clients, creative agency people, people from design backgrounds, and it's meant that we can think a little differently and use some different business principles to client challenges."
Expanding roles
This is something that has had to happen to reflect the ever expanding role of marketing directors, who are increasingly faced with a broader spectrum of market functions, Rubins says.
"Clients' businesses are changing now and I think the remit of marketing directors is so broad that they are looking for good, solid advice from their key partners and it doesn't matter if it's advice about creativity or advice about their product offering or packaging, they are looking for good solid honest advice."
However, after a misguided segue into insisting that media agencies can be tasked with a whole range of functions, even mentioning packaging, he adds a caveat: "I'm not going to say that we are experts in all areas of marketing, but we've certainly got a strong opinion."
This opinion extends to PHD's relationships with its media partners, but Rubins says that part of the business is also going through a sea change, and that media agencies have to realise that there is a power shift that opens up media owner's relationships directly with clients, and that agencies have to act accordingly.
He adds: "Media agencies no longer have a monopoly over client relationships and I think that's a good thing. It's a good thing, as clients will have a better appreciation of the mechanics of media-owner business. I think it allows media owners to properly understand what client challenges are, so that's a good thing.
"However, it does mean that we need to get better at working with media owners and, ultimately, they have invested hugely in strategic and creative services over the past few years, and I think that has given us an opportunity as agencies to tap into that rich resource."
Social strategy
Rubins says that this is particularly true in the digital arena, an area in which PHD shone during the judging process, with at least one judge insisting that PHD "don't just bolt on a bit of Facebook and think, 'that'll do'." Two shining examples of the power of the agency's social network planning shone through in the Grand Prix winner 'The Angina Monologues' and the Sainsbury's campaign 'Perfect Christmas'.
This chief executive visibly perks up when he is furnished with this piece of information, as if someone has finally uncovered on of the things he holds most dear to his professional heart. But it is his people along with clients and media owners that drive this change.
"That's really nice to hear," Rubins says.
"We try and put consumer insight and understanding and intelligence at the heart of our business, and digital is fundamentally important, but it's a delivery mechanism, it's people and consumer insight that changes client businesses.
"What we've worked hard at doing is integrating our strategy resource, our insight resource and our digital resource within the client planning teams, so that effectively, we've got one team doing all of it and that's really important, as I know some agencies have effectively separated all of those disciplines."
He is positive about where he thinks media succeeds, but equally damning about where he currently sees it failing.
"I do think that over the last 10 years, we've seen a fall off in the art of good media planning. I think agencies have become obsessed with high-end strategy at one end and buying at the other end, and this whole area of the craft of good media planning is starting to lose its way."
This is where PHD finds its place in the market, as media agencies change in one of two directions.
Rubins says that there will be agencies that become very good at automating the media process and will focus on data, and there will be those agencies that invest in creativity and ideas, and creating a special bond between consumers and brands.
He says: "Where I think PHD is focused on is really the spaces in between. It's about marrying those two things up. [We're involved with clients] that have rich data, but also recognise that you need to create a proper connection with consumers.
"We're going through unprecedented change. I think the successful agencies will be those that get those metrics, but also those who invest ahead of the curve in terms of talent."
In fact, when pushed, Rubins insists that this is the biggest change in media since the estrangement of media departments from their creative agency partners, which created the very agency we now sit in.
He is emphatic: "This is definitely the biggest thing to happen since the media and creative split at the beginning of our industry, and we've been heading that way for a couple of years, where you have agencies investing in return on investment and agencies investing in creativity.
"Personally, I don't think it's enough to be focused on one of those areas anymore – you have to be great at both of them."
As Media Week departs from PHD headquarters at The Telephone Exchange on London's Chenies Street, Rubins outlines some simple reasons for PHD's success.
"I've got absolute and complete faith in the people that we have here and it's taken three or four years to create the kind of team that can really motor ahead," he says.
"I think we've got that now and the awards to me are testimony that we've got that.
"I think it is now the time for agencies to be confident to produce brave work, to invest in fabulous talent, and I think we've got a very successful future ahead of us."
Follow Mark Banham on Twitter @Banham72