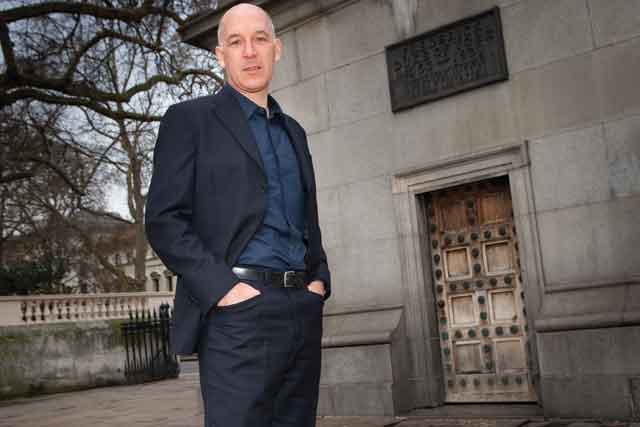 When the recently appointed Newspaper Marketing Agency boss Rufus Olins grants us this interview, not long after this year's Annas (the print medium's premier creative showcase), he points out, quite reasonably, that it would be unfair of us to demand a fully formed manifesto.
Having spoken to one or two people lucky enough to be there at the gala awards evening, we were trying to suggest that the proceedings had an unmistakable end-of-an-era feel to them. Some senior figures were notable by their absence, some newspapers were very poorly represented, some of the work on show was uninspiring (or poorly showcased).
The talk suggested that this was surely the end of the road for the Annas in its present form. And we, in turn, are trying to suggest to Olins that a more radical philosophical transition may now be on the cards for the NMA.
Something, we hasten to add, above and beyond the obvious differences there will be in terms of personal style. After all, his predecessor as the NMA chief executive was the petite and glamorous former daytime TV boss Maureen Duffy, who was the body's chief executive from its inception a decade ago until her departure at the end of last year. As people, Olins and Duffy are clearly poles apart.
But we're thinking of something rather more profound. The NMA, which is funded by most national newspapers, is tasked with promoting the commercial interests of the medium, most notably by evangelising about its power as an advertising medium.
And Olins, after all, positions himself very much as a moderniser, one who's adept at restructuring businesses to acknowledge the dictates of the digital economy. In announcing his appointment, the NMA's stakeholders were clearly keen to be seen to be playing the modernising card too.
Yet Olins cautions us against getting too carried away with digital matters. "This is a medium that reaches 22 million people every day of the week in print alone and it took £1.4 billion in ad revenue last year. So it's important always to remember that this is an industry of real scale," he says.
Olins has a thoroughbred publishing background, with stints as a reporter on Campaign and The Sunday Times before returning to Haymarket as (eventually) the editor-in-chief of Management Today as a prelude to his taking on more commercially oriented publisher roles at the start of the noughties.
His new appointment comes at an opportune time. When, at the end of 2008, he left Haymarket to become the chief executive of Warc, it seemed to reflect more entrepreneurial aspirations. But when his Warc tenure didn't exactly work out (he left without a job to go to in July 2011, following differences over strategy), Olins seemed adrift from the publishing world - itself in some turmoil - where he had built his career.
Olins makes a convincing case for his track record in positioning businesses to take advantage of new opportunities. And yet it's also true that he is part of a generation of publishing industry managers with no direct experience of growth - and, consequently, the reality of his stock in trade has always been about downsizing.
Now, again, he faces the challenge of talking up an industry that is doing just that. Dominic Williams, the print director at Aegis Media, says: "I would like to see him show the same passion and dedication that Maureen was renowned for. He needs to motivate a strong team who are all well-known within their relevant agencies."
One of his oldest friends (they were at York University together), the Walker Media chairman, Phil Georgiadis, reckons he's ideally placed to succeed in his new role. "Rufus has the right credentials," he maintains. "He has been involved in the modernising of a few businesses in the last decade and is clearly not afraid to challenge the status quo. He knows and loves newspapers. He is well-connected. He listens."
Others (notably the NMA chairman, Paul Hayes) agree that connectedness is one of Olins' strengths. And, indeed, it's perhaps true that this was a talent acquired at a very early age - he is, after all, the son of the legendary branding consultant Wally Olins.
He has impeccable credentials of his own as a quiet but effective mover and shaker within the chattering classes - he is, for instance, on the board of that august networking and lobbying institution (with a nice little drama group attached) the Almeida Theatre.
Olins, however, clearly knows that success in his new role will be grounded in forming the right sorts of relationships with all of the NMA's stakeholders. He says: "I'm good at bringing people together and generating new ideas and connections. My previous roles at Haymarket and Warc have involved helping organisations make transitions and I am experienced at managing them. It is important to listen and to have a dialogue - and I also have strong opinions of my own."
THE LOWDOWN
Age: 50
Lives: Kilburn, London
Family: Wife, Sara; daughter, Eliza; son, Clem; and Diggy the dog
Favourite media: Newspapers, of course
Must-have music: Bob Dylan, Mozart, Norah Jones
Last book read: The Marriage Plot by Jeffrey Eugenides
Interests outside work: Cooking and cycling
Motto: Change creates opportunity