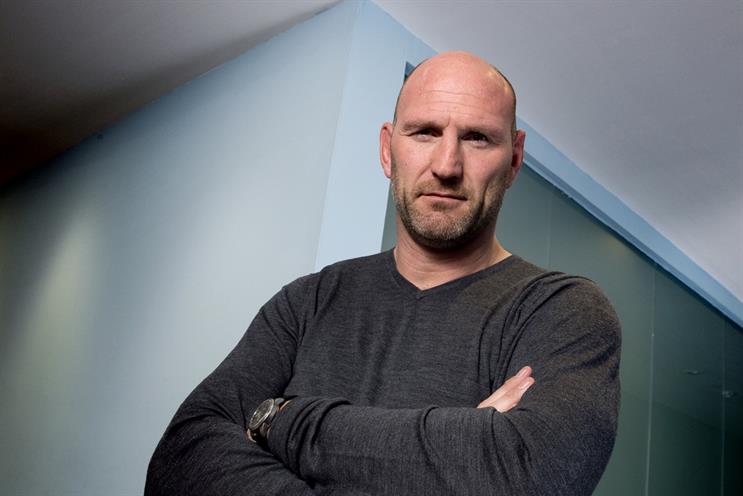 It is a strange thing to hear Lawrence Dallaglio enthuse over BBH Sport's creative partner, Ewan Paterson, like a football fan raving about a new signing.
"Ex-Bartle Bogle Hegarty, CHI & Partners, DDB. Having someone with that kind of heritage here is an amazing opportunity," he gushes.
And Campaign's interview with the former England rugby captain turned head of business development at BBH Sport gets stranger still.
At one point, it sounds like Dallaglio, who spent his entire career playing for the London Wasps and won the World Cup with England in 2003, laments how rugby held back his business career.
"Rugby got in the way of a lot of other things because, to be successful in sport, you have to make huge sacrifices – both professionally and personally. I enjoyed my career playing rugby a huge amount but, if I'd spent 20 years doing something else, where would I be now? I've got a lot of catching up to do."
One thing is clear: Dallaglio is not playing at advertising. He's not a figurehead who gets paid big potatoes for showing up and regaling prospective clients with locker-room stories from his England days – although that may be part of the package.
Dallaglio is attuned to the market. He has a clear view of what BBH Sport can offer and what clients need. In fact, he only belies his inner sportsman and pundit when he peppers his speech with phrases about DNA. But then BBH's new management – keen to stress consistency – have been guilty of doing the same thing lately, so perhaps Dallaglio caught that from them rather than those post-match interviews.
BBH launched its sport division in January 2014, with the London office's chief executive, Ben Fennell, as its chairman. It was Fennell who brought Dallaglio on board. They knew each other from their days on England's student team (Fennell was a prop) and had stayed friends.
"I was one of the first [to play rugby professionally] in 1995 so, for me, there was always going to be the realisation that, when I finished rugby, I was going to go back into work," Dallaglio explains. He has a unique vantage point in the industry, having been a brand ambassador and starred in ads for Nike and McDonald's, among others.
"I think the whole world of sports sponsorship is interesting, having worked as an ambassador for brands, sitting in meetings with clients and coming up with ideas," Dallaglio says. "I thought there was a lot of good work around the area of activation, but I felt there was not quite as much creativity and strategy about why brands would get involved with rights holders."
Dallaglio's involvement naturally meant BBH Sport's launch earned its share of headlines. But, since then, the agency has kept a relatively low profile and focused on building a reel of work for clients including Adidas and Weetabix.
It was no coincidence that one of BBH Sport's first wins was for the Rugby World Cup. Being blunt, it would have been embarrassing if the agency hadn't won the brief.
But Joanna Manning-Cooper, who was the head of media and PR for the London Olympics before joining the Rugby World Cup organisers as the head of marketing, thinks the agency showed it understood sports marketing in general, not just rugby. She picked BBH ahead of Abbott Mead Vickers BBDO, VCCP and J Walter Thompson.
"Lawrence has done a lot of work with sponsors as an ambassador, so has a rounded view of sponsorship, and has clearly developed a real knowledge of marketing along the way," Manning-Cooper says.
"Obviously, his little black book of contacts helps from time to time, but he has provided much more than that. He challenges clients – and not just when talking about rugby but when talking about branding or marketing strategies too."
BBH Sport's real prize – perhaps even more so than the Rugby World Cup – was Adidas. Fennell had struggled for years to convince the brand to spend some of its sports marketing budget with BBH. The sports arm proved a tipping point.
Dallaglio and the 12-man team at BBH Sport plan to leverage the shop's reel to win new clients that have no links with the main agency. Its strong suit will continue to be advertising campaigns, but BBH Sport is in a good position to build relationships with sports talent too.
Whatever the future holds for BBH Sport, Dallaglio stresses he'll be there to witness it. "Our aim is not just to be the most creative agency in sport but the most creative agency full stop," he says. "When I do something, I do it for the long term. I'm not just someone who comes in and out."
You can ask any Wasps fan about that.