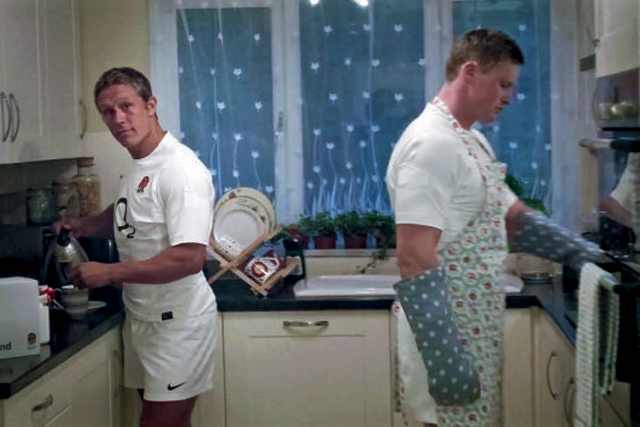 It appears to have somehow passed millions of people by that the world's third-biggest sports event has just taken place.
The Rugby World Cup (RWC), held over the past six weeks in New Zealand, claims a worldwide audience of 4bn, placing it behind only the FIFA World Cup and the Olympic Games in viewing terms. Yet, aside from the England team's reported fondness for mystery blondes and dwarf-throwing, most people in the UK would be hard pressed to recount many incidents from during the tournament.
The performance of the home nations has certainly not helped: Scotland went out at the group stage; England limped only to the quarter-finals; Ireland lost out at the same stage, despite a promising start; and the Welsh were unable to overcome France for a place in the final against New Zealand, finishing fourth.
Yet, according to Steve Martin, chief executive of M&C Saatchi Sports & Entertainment, the malaise went much further in a tournament he describes as 'commercially and creatively flat'.
'A lot of the brands we would have expected huge activation from have been limited (in their approach), especially the big sports brands like Nike and Adidas,' he says. 'At this stage, we are usually debating the stand-out brand, but nobody has stood out.'
Martin adds that the promotional window around this year's RWC has been 'incredibly condensed', with brands looking to build hype only a couple of weeks before kick-off.
Tricky timing
Given that sponsors have stumped up millions of pounds to sponsor individual teams as well as the event itself, the muted activation is all the more baffling. British TV audiences have also held up remarkably well despite the early starts (see box), proving that the RWC was a hit with less dedicated sports fans as well as rugby die-hards.
Sally Cowdry, marketing consumer director at England team sponsor O2, admits that the biggest challenge of the event was getting fans out of bed for the early-morning kick-offs. Yet she insists that the mobile brand's 'Get up for England' activity, which offered customers 'breakfast packs', was a success, distributing 40,000 rounds of 'breakfast pies' and ale.
Similarly, Mark Cameron, brand extension director, global marketing, at RWC sponsor Land Rover, says that such a time difference should not be seen as an insurmountable obstacle. 'Managing a time-zone differential of between 11 and 13 hours should not be underestimated and can be challenging,' he concedes. 'But initial feedback from the markets has been extremely positive. We have run some very successful consumer promotions, for example, in South Africa, while our on-the-ground promotions in New Zealand have also been popular.'
Longer-term considerations
The modesty of ambition shown by some sponsors should perhaps be seen in light of what is expected to be an expensive 2012, with the Olympic Games in London and the Euro 2012 football championships. Yet marketers may rue a missed opportunity to drive brand association with rugby union, given the likely scrum of activity around the 2015 RWC, which will be staged in England and Wales.
ITV, which will still hold the UK broadcast rights in 2015, has its sights on audiences more akin to the 13m who watched England lose the final to South Africa in 2007, when the event was held in France. 'The RWC will always be a big event for rugby fans, regardless of time of day, but in 2015 the appeal should go way beyond the usual fan-base, so we're really excited about the potential,' says ITV group commercial director Simon Daglish.
The Rugby Football Union (RFU) is busy signing up tournament sponsors, with Heineken and Land Rover already on board, as it aims to pitch the 2015 event as the biggest yet. A commercial division was launched earlier this year, looking to entice brands with that much sought-after ABC1 male audience.
Hans Erik Tuijt, global brand activation manager at Heineken, which has invested more than £100m in rugby sponsorship since 1995, confirmed the brand intends to use the 2015 competition to continue to position itself as the 'world's most international premium beer brand' in front of key target consumers.
Nigel Currie, director at sports marketing agency Brand Rapport agrees that the next RWC will provide 'more of an opportunity' for sponsors than the tournament just passed. 'Rugby union will always be a very attractive sport for those brands looking to exploit a more affluent market, especially with the RWC shown on commercial TV,' he adds.
By putting in the leg-work during this year's event, brands such as Heineken and O2 may have given themselves a head-start once the fight for ROI begins. Conversely, those attracted to the show in 2015 may regret napping while an opportunity passed to get in ahead of the crowd.
BRAND VIEW - TAPPING INTO SHARED PASSION
- Paul Cornell, marketing manager, Guinness
Rugby is a game that inspires passion and provides a fantastic opportunity for consumers to engage with the Guinness brand. It's also a great vehicle to drive our brand objectives - linking to a highly sociable occasion and relevant shared passion-point, which generates significant levels of consumer participation.
Our rugby activity since the summer has been focused on improving brand perception and awareness, as well as delivering exclusive content. We have had a great response to our TV and print campaign, while our online community activity has been outstanding, with a significant increase in daily Facebook visitors.
The profile of rugby will continue to increase; domestic competitions are the most competitive in the world and the next 6 Nations promises to be even more compelling. By the time 2015 comes around, there will be a huge national buzz and, hopefully, consumers enjoying the game and a great pint of Guinness in the pub.
AGENCY VIEW - SEIZING THE OPPORTUNITY
- Tim Crow, chief executive, Synergy
If the 2015 Rugby World Cup is as good as the 1991 and 2003 versions, we're in for a treat.
The 1991 tournament, which was staged in the UK, Ireland and France, catapulted rugby union (then still an amateur sport) into the media and marketing big time. Then England's win in the 2003 final in Sydney, watched by 13m UK viewers on ITV at breakfast time, confirmed rugby's place as, by most measures, the UK's second-most-popular sport after football.
So there's little doubt that RWC 2015, which will be staged in England and Wales, will spur many brands into rugby, especially those aiming at rugby's upmarket male heartland.
With an array of entry points for brands, through sponsorship or media platforms, this is a relatively easy task.
It will be much harder to create an immersive consumer experience that cuts through the inevitable clutter and delivers business results. In 2015, that battle off the pitch will be as intense as the rugby.
ACADEMIC VIEW - WEIGHING UP THE RISKS
- Dr Jaafar El-Murad, Head, department of marketing and business strategy, Westminster Business School, University of Westminster
It might be true for film stars that there is no such thing as bad publicity, but this is a less likely proposition for those hoping to sell goods and services. Marketers fear bad publicity and choose their brand spokespersons with care, making sure they are relevant and valued by the target market for the product, and ditching them when their public and private lives fall short of requirements.
The public's reaction is not always what we expect, however. Kate Moss' cocaine scandal in 2005 reportedly doubled her earnings, as her exploits enhanced her credibility among her following. But what happens when you tie your brand to a sports team or individual that fails to perform? While some might aspire to be in the same league as a cocaine-sniffing supermodel, does anyone ever aspire to be a loser?
Surely sponsoring sportsmen must be one of the riskiest of marketing activities, yet so many marketers do it, spending vast amounts of money. An amazing $50bn (£31.7bn) is spent annually on sports sponsorship, but this is pretty small compared with advertising ($450bn/£283bn).
Sponsorship is, therefore, a relatively cheap way of getting your brand message in front of as many people as possible in a concentrated period of time. Put it this way: it may not matter if your team does not win. The brand name still enters your sub-conscious, becoming part of your consideration set, to be brought out and dusted down when you are considering a new energy supplier, airline, car or insurer.