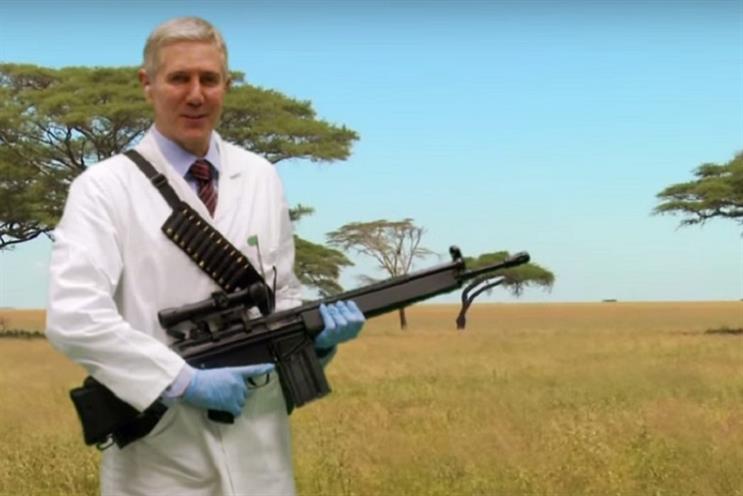 Paddy Power (non-sponsor)
In an attempt to push its sports betting offering Paddy Power has created online content around a character based on Walter Palmer, the American dentist and big game hunter notorious for killing Cecil the lion in August. The premise of 'An American Dentist is Big Game Hunter' is that the character will preview each match by shooting the national animal of the team he predicts will lose.
Heineken (worldwide partner)
Brewing giant Heineken has secured exclusive pouring rights at the tournament's 13 stadia for its range of drinks, which include Strongbow and Newcastle Brown Ale.
But its sponsorship is focused solely on its Heineken lager brand, which has a long association with international rugby.
The rugby authorities have agreed for Heineken to bring in one person to watch the coin toss between the two team captains that decides which end the teams start playing from in each of the 48 matches.
Heineken has driven sales by dangling the chance to win this opportunity, or match tickets, in front of fans around the world through on-pack promotions.
It is also running the contest on social media, where it will continue to engage rugby fans during the tournament with TV-style Heineken Rugby Studio shows featuring famous rugby figures discussing the matches. Fans can take part in the contest and the shows using the hashtag #itsyourcall.
We're opening #RWC2015 with a live Q&A with Jonah Lomu 8pm GMT Friday. Tweet #ItsYourCall to ask him anything. https://t.co/ooDNBj3h6Y

— Heineken (@Heineken) September 16, 2015
Former players Heineken has signed up as the Heineken Rugby Legends include Will Carling (who will host the Heineken Rugby Studio), Jonah Lomu, John Smit, Matt Dawson, Scott Quinnell, Rocky Elsom and Shane Horgan.
They have featured at a number of live events Heineken has hosted in the UK in the run-up to the start of the tournament.
Heineken then unleashed another wave of activity with this stunt in a branch of Tesco that saw unsuspecting shoppers challenged to an unusual contest to win match tickets.
Land Rover (worldwide partner)
Land Rover has put the emphasis on experiential marketing and building relationships with exactly the kind of people likely to buy its vehicles, amateur and grassroots rugby players and their families.
It started early with its activity for Rugby World Cup 2015, signing up to sponsor the tour of the Webb Ellis trophy around the globe between May 2014 and May 2015, which it supported with a fleet of vehicles.
When the trophy tour shifted to UK and Ireland for the 100-day run-up to the tournament it provided a customised version of its Defender model with an in-built trophy cabinet.
The tournament organisers have allowed Land Rover to select all 96 child mascots who will walk out with the teams onto the field. Land Rover recruited 20 from each competing nations and the rest from grassroots rugby festivals in the UK, with judges including former England player Lewis Moody picking the children who performed best in the audition challenges.
It has brought its support for grassroots rugby to wider attention with a content drive called #wedealinreal, focusing on the world's smallest clubs, that has been fed into its current advertising campaign.
Ticket giveaways, through encouraging fans to follow and retweet, have helped take its @LandRoverRugby follower numbers past 16,000.
During the tournament it is joint sponsor with energy company SSE of ITV's exclusive live coverage and will be organising local screenings across the UK.
MasterCard (worldwide partner)
The payments brand has centred its marketing on encouraging people to use their MasterCards to have a chance of winning tickets and other prizes related to the tournament.
During the tournament it will be running activity under the banner '44daysofcrazy', billed as Rugby taking over the world in some surprising and Priceless ways.
At the games it is sponsoring the man of the match award, which will be decided by a public vote through its Priceless website and Twitter and presented by a MasterCard competition winnner.
It is also sponsoring the MasterCard Clubhouse in Richmond, close to Twickenham Stadium.
Rugby figures including Dan Carter and Chris Robshaw have been lined up to take part in its Priceless Surprises work, while Jonah Lomu led a suprise haka in Covent Garden days before the tournament.
Societe Generale (worldwide partner)
The French international bank, despite having a low consumer profile in the UK, has long been associated with international rugby.
It has concentrated on its digital presence, creating four different series of films distributed on its website and social media. These include a look at the work of the teams behind the scenes of rugby; a light-hearted explanation of rugby terms; one focusing on its internal events; and one presenting historical facts about its relationship with the rugby world.
It has signed up former England player Jonny Wilkinson, who is well-known in France from his time playing for Toulon, as its brand ambassador, and challenged people to name their dream rugby team to win a weekend training with him.
Societe Generale has also appealed to grassroots rugby in France by setting up a crowdfunding platform for people to contribute to funding improvement projects for clubs.
At the stadia fans will see Wilkinson in a short film called 'Team Spirit', promoting Societe Generale as "part of the rugby family".
DHL (worldwide partner)
The official logistics provider of the World Cup has recruited 48 children from around the world to 'deliver' the official match ball on the pitch.
It has used its sponsorship to build its prospect database, offering the chance to win match tickets in return for completing a quiz on its website.
It has also joined in the trophy tour, helping to transport the Webb Ellis Cup from continent to continent, and treating its top customers and staff to events alloiwing them to be photographed with the trophy and meet famous rugby players.
Emirates (worldwide partner)
The official airline of the World Cup has run a competition for teenagers to act as flagbearers leading the teams out onto the pitch.
The Find The Flag contest challenged 14-16 year-olds to follow clues on Emirates social media channels to locate Emirates flags hidden in the host cities. They had to upload selfies with the flag to have a chance of winning the prize.
With the start of the tournament Emirates has debuted a comic TV ad showing it transporting a Gilbert rugby ball in first class from New Zealand (the last winners of the trophy) to England.
Coca-Cola (sponsor)
Losing no opportunity to get its brand everywhere, but still support physical activity, the soft drinks giant has been running a promotion giving away a million Coca-Cola-branded rugby balls through an on-pack competition.
The balls are produced by Gilbert, which supplies the official Rugby World Cup ball.
Coca-Cola has staged free, rugby-inspired events across the country throughout the summer including touch, tag, rugby-fit and rugby-inspired dance classes.
Canon (sponsor)
The Canon Professional Services (CPS) team will be on site sharing their imaging expertise and helping professional photographers get the perfect shot throughout the tournament.
Canon has offered consumers a chance to shadow a Getty Images photographer at a Rugby World Cup training session as part of an online competition.
Toshiba (sponsor)
Toshiba has created an interactive guide to the tournament on its website, but is mainly focused on corporate hospitality, for which it has hired Strawberry Hill House, an eighteenth century gothic mansion near Twickenham.
Fujitsu (sponsor)
The Japanese IT company is a first-time sponsor of the World Cup, which next heads to Japan.
Dove Men + Care (official supplier)
The official male grooming provider is supplying a total of 10,000 anti-perspirants, shower gels and face products to the players through the venues.
Its consumer-facing activity includes a ticket giveaway through the @DoveMen Twitter account, advertising reminding people that 'care makes a man stronger' and a content partnership with The Daily Telegraph.
Other commercial partners include:
Gilbert (official supplier)
Canterbury (official supplier)
Clifford Chance (official supplier)
EY (official supplier)
Tissot (official supplier)
Duracell (official provider)
Grant's (official provider)
Heathrow (official provider)