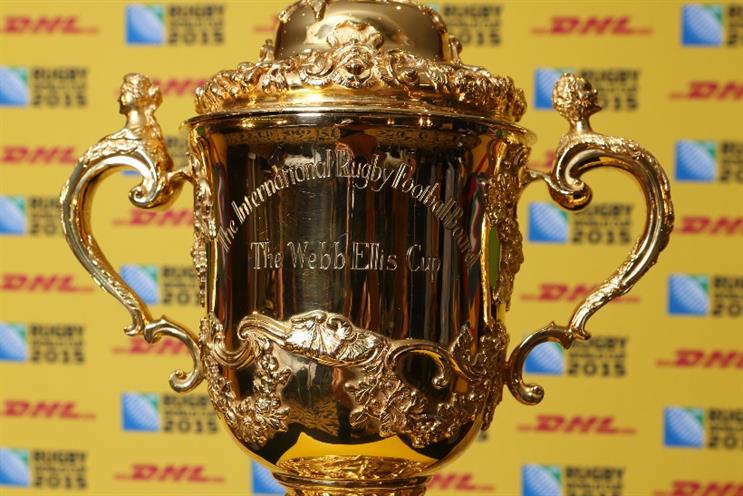 For DHL, it's partly about sexing up a pretty functional brand.
The Deutsche Post-owned company has returned as a headline sponsor of the Rugby World Cup, joining consumer-facing names like Heineken, Land Rover, Emirates and MasterCard. French bank Societe Generale is also on the roster.
The six are thought to be paying $10m each (£6.45m) for their sponsorship, according to sports data consultancy IMR.
We're pretty much a household name, now we want to tell DHL's story beyond showcasing our logo
DHL's global sponsorship manager, Fiona Taag, told Marketing: "We have changed from being just B2B to beinig much more consumer-facing. That's largely been driven by an e-commerce world, with many people buying online and needing products shipped.
"We're more consumer-facing than we ever were."
DHL's public image has been slow to catch up with the internal reality, perhaps. The logistics company is involved with a number of other high-profile sponsorships, including Manchester United, the Rolling Stones and Cirque du Soleil.
Injecting emotion
But rugby sponsorship holds a special place at DHL, largely because of the company's history.
According to Taag, the firm's early growth was helped by expats from the biggest rugby-playing nations – South Africa, Britain and New Zealand. The firm's history in rugby goes back around a decade, Taag said, though the 2011 Rugby World Cup was the first tournament sponsorship.
It's also a sport for the "influencers" who might consider DHL as a partner down the line, Taag said. In other words, rugby remains a middle-class sport, although its governing bodies won't admit this.
DHL's sponsorship will comprise both practical and emotional activity. Behind the scenes, the firm will be shipping team equipment between stadia. But it's also running activities like the match ball promotion, inviting one child from a rugby-playing nation to deliver the match ball during the game. DHL is aiming to find 48 children from 42 countries to deliver the ball to 48 matches, for example, opening the England-Fiji game.
The logistics firm is also putting the scrum at the heart of its activity with the Scrum Share campaign, where ambassador Adam Jones asks fans to scrum with any object – like a tree - to win tickets.
Taag added that the speedy evolution of digital means the firm is doing more online than for the 2011 tournament.
She said: "Social media, apps and digital integration has moved along so much. We have our own version of the Stig, a well-known player [disguised as] DHL Tackleman, who is commenting on Twitter and writing regular blogs."
DHL has three goals it's focused on with its sponsorship. One is to show off its logistics operation through content, but not in an "overly commercial way", said Taag. The second is to boost employee engagement and get them thinking about the values of rugby, and how they relate to DHL's own workings. Finally, there's brand consideration.
Taag said: "We're different from other partners like Heineken where revenue flows in directly. We're more about opening people up to the idea of working with DHL, and we hope to be top-of-mind when it comes to choosing a courier.
"It's about emotionalising our brand. We're pretty much a household name, now we want to tell DHL's story beyond showcasing our logo."