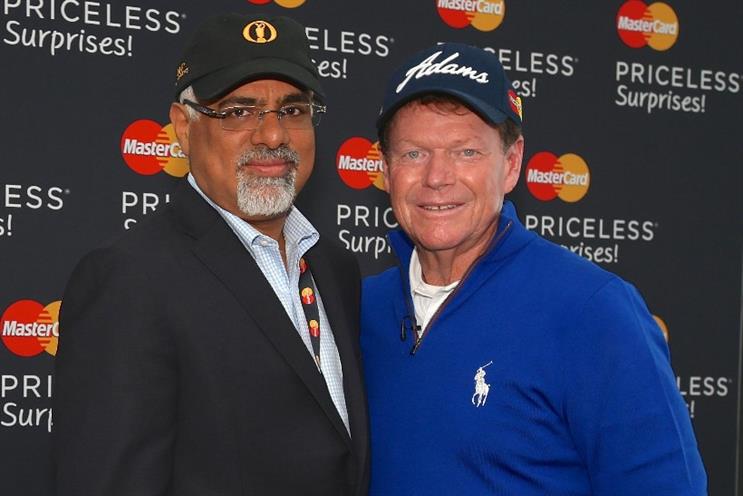 The Rugby World Cup sometimes bills itself as the third biggest sporting event, behind the football World Cup and the Olympic Games, although the International Cricket Council might have something to say about that.
Brett Gosper, CEO of World Rugby, which holds the rights to the tournament, has claimed that the event will have a stronger economic boost for England than the London Olympics, when accounting for the capital expenditure of the Olympics.
He told Marketing: "The Rugby World Cup audience is an unusually high-spending, high socio-demographic and matches golf in that sense.
"Over that six week period we'll probably have over half a million foreign visitors coming to England, while we're hoping to sell around 2.3 million tickets."
The tournament has done well in signing premium sponsors, with MasterCard, Heineken, Land Rover, Societe General, DHL and Emirates all signing up in record time. According to Simon Rines, editor of sports data consultancy IMR, top tier sponsors are paying around $10m (£6.45m).
MasterCard's CMO, Raja Rajamannar, spoke to Marketing about the brand's rationale for getting behind rugby.
Five lessons for sponsoring a major global sporting event
1. Know what the brand needs
As with any financial brand, a key challenge for MasterCard is making its image exciting, and standing out in a sector characterised by torpor.
The 'Priceless' campaign has been central to this effort, since it has helped shift perceptions of MasterCard from a dry utility to an enabler of fun.
But for 'Priceless' to work, Rajamannar says MasterCard needs to form the right associations, namely areas that evoke passion in consumers. And as noted by World Rugby's Gosper, rugby supporters tend to be an elusive, "higher end" kind of consumer.
Rajamannar told Marketing: "In terms of events we should be associated with, there is a rationale and there is a framework.
"We divide consumer interests into nine 'mind passion' categories, including sports, music, entertainment and travel. And within each sport, we see which have interest from different segments, and what the level of passion is among the target audience."
2. Pick the right sport
MasterCard hasn't always had a positive relationship with sports. The payments brand originally sponsored the World Cup, but famously broke ties with Fifa in 2006 after the governing body awarded a sponsorship package to rival Visa.
Unable to sponsor the 2010 football World Cup, MasterCard signed up as a top-tier sponsor for the Rugby World Cup in 2011, and also sponsors the Uefa Champions League and the British Open. The Rugby World Cup is the company's only world cup sponsorship.
For Rajamannar, the Rugby World Cup has the advantage of only coming around every four years. That means a highly intense burst of passion from consumers, plus the longevity to plan for new, innovative marketing activities.
He said: "People transform themselves into tribes, and they are intensely passionate. Multiple countries have deep-reaching emotions [about the sport].
"There is a non-repetitiveness. We see a fantastic opportunity to come with a different angle to connect with fans."
3. Make the match better
The payments landscape has already changed vastly since MasterCard signed up as a Rugby World Cup sponsor in 2011. British consumers are increasingly au fait with contactless payments and, with the arrival of Apple Pay this month, may begin exploring contactless mobile payments too.
MasterCard has upgraded the thirteen World Cup venues with contactless payment terminals to try and reduce beer queues and boost the basic match experience. It will also allow anyone using a rival contactless card to use the terminals.
Rajamannar said: "It's important for us that, whatever we try to do, we come at the problem from two different angles.
"One is from the payment enablement perspective and what we can do to improve the experience, and the other is as a marketing vehicle and what we can do to engage consumers better."
4. Decide your end goals
With extensive experience in sponsoring sporting events, MasterCard has come up with detailed mechanisms to measure the impact of its sponsorships on its brand, Rajamannar said.
The brand splits its goals across three categories – exposure, brand equity and generating new business.
The exposure category is where contactless payments come in, with consumers and merchants able to easily experience the benefits the tech can bring. The 'Priceless Surprises' giveaways also emphasise the consumer experience.
According to Rajmannar, MasterCard also has "tracking studies" that keep score of newer metrics such as brand preference and brand advocacy. He said: "We have very clear ideas on how many percentage points we want to see the needle move by."
Finally, there's generating new business, and working out how much it comes from the Rugby World Cup. Rajamannar said: "We have attribution models that show us, if our market share has gone up 1%, that it's the event driving that."
5. Look to the future
The next Rugby World Cup is taking place in Japan in 2019 – provided the country can finish its new national stadium in time. Whether the sponsors will sign up again won't be clear for several years.
Rajamannar hinted MasterCard was keen to continue the relationship, commenting on the passion for sport among the Japanese, particularly around golf.
He said: "Japan is no less passionate, though it may appear subtler or different.
"Recently we had a brand ambassador, [pro golfer] Hiroyuki Fujita, and there was huge excitement within the Japanese community. You say wow, this is resonating extremely well. The passion is there."
MasterCard is also increasingly getting behind women's sport, an area somewhat neglected by brands to date. The recent performance the English women's team during the Women's World Cup has highlighted the potential in football, with MasterCard also sponsoring the Uefa Women's Champions League. Rajamannar says MasterCard has identified other areas for growth too.
He said: "It's also happening in golf. In Japan, the LPGA got higher viewing numbers than the men's, which is fantastic. Things are boding well and we don't want to be missing out on the trend."
---
Recommended